A 5 star exclusive spot!
ALTA CARE Laboratoires' four storey building overlooks the square that is famous for the Spanish steps and the luxury brand retail outlets. A 5 star exclusive environment has been created with the main purpose to continue creating luxury skincare and well being products in a luxury environment.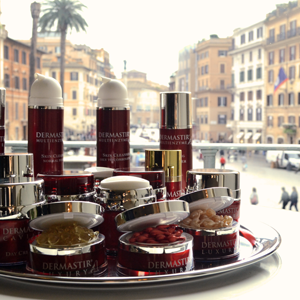 The facade of the building also includes terraces with breath taking views overlooking the Spanish steps square that offer a magnificent backdrop for the Alta Care Laboratoires products which are of French quality but with a strong touch of Italian style. The back part of the building also has views of mature gardens that are unique since it is the only building in the piazza that has gardens on the backside. These gardens are the scenario for the Dermastir Garden Spa being used as a prototype in many 5 star hotels and spas around the world. Wrinkle filling, deep cleansing, microdermabrasion, candle oil body massage, facial lifting using aesthetic machinery and body wraps are some of the signature treatments.
Products are created with a luxury touch and tested within this luxury environment for the discerning client. The Alta Care management strives daily to improve the look of the products and to keep up the pharmaceutical quality that distinguishes it from many other skincare and food supplement companies.
Some of the products that are created are used exclusively during aesthetic treatments in 5 star Dermastir Luxury spas around the world. Expert beauty therapists at Alta Care Laboratoires provide professional consultancy and training within the premises to its clients.
ALTA CARE BeautySpa – Piazza di Spagna 6 – 00187 Rome – Tel : 06 69380852  www.altacare.com