This blue-ribbon clinic in Paris has recently been fully redesigned and renovated.
The new team of staff and new treatments will play a key role in ensuring the establishment remains one of the major names in cosmetic surgery and aesthetic medicine in France. The Clinique Alphand has been established in Paris since the 1950s and many distinguished cosmetic surgeons have worked there. Founded by Dr Charles Claoué, who repaired injuries suffered in the war, and later taken over by his granddaughter, Dr Béatrice Lafarge-Claoué, this clinic has passed down its expertise from family to family, with the arrival of new experts and new owner Stéphanie Kita, who purchased the clinic in 2021. Her father, Waldemar Kita – one of the pioneers for using hyaluronic acid, first in ophthalmology then in aesthetic medicine – passed on his passion for beauty to his daughter.
Two objectives: To bring the clinic back to its former glory and offer high-tech facilities to its collaborators.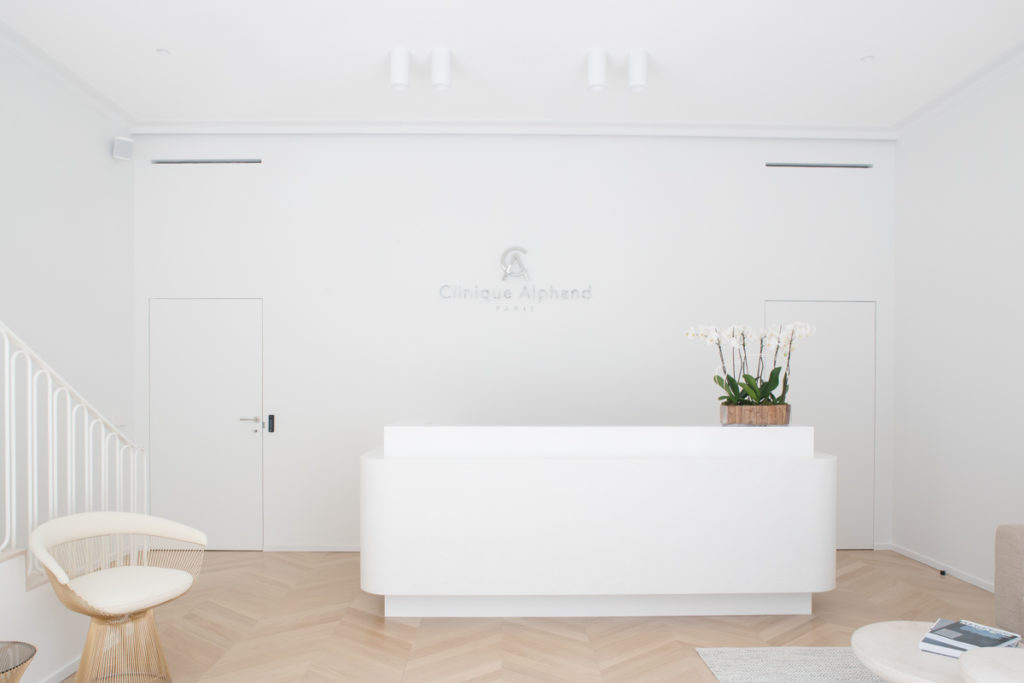 Stéphanie Kita explains, "My aim is to get back to basics by focusing on listening to the patients and offering them high-quality and ethi-cal treatments that make them feel happier." Because the clinic is relatively small and has a condensed team of staff, it is able to offer a more fluid and faster patient pathway, with precise and persona-lised results. The experts guide their patients in order to fulfi l their requirements as best they can: redefi ning the figure and rejuvenating the face while avoiding any of the excesses we sometimes see. "This is not a factory production line!" insists the owner.
At the heart of our work: Combining aesthetic medicine and surgery.
So that these two disciplines can work together, side by side, the clinic has been set up on two fl oors. The first is dedicated to innovative aesthetic medicine. The seven treatment rooms contain laser devices for permanent hair removal, vascular issues or pigmentary issues, with the Gentle Max Pro and the Nodlys; deep facial treatments with Hydrafacial or Miladerm; cryolipolysis with Coolsculpting; body contouring with the Coolwaves technology; and, of course, filler injections.
The second floor is dedicated to cosmetic surgery, with two operating theatres fitted out with cutting-edge equipment. Four rooms are available for in-patients and four cubicles can be used by out-patients.
Coming soon: Functional and preventative medicine.
For Stéphanie Kita, "Inner and outer wellbeing do not only go hand in hand, but also enable us to accompany the results of aesthetic medicine and surgery with a preventative approach." This new discipline is set to be incorporated into the clinic very soon, as a comple-ment to its four existing cornerstones: high-quality treatments carried out with care and in complete safety; patient satisfaction with personalised follow-up care; patient confidentiality, which is vital in this profession; and refinement, with an individual approach carried out in a chic and modern environment.
A discreet address
The atmosphere inside the clinic was one of the key aspects of its renovation. The space is chic, understated, modern and soothing. The treatment rooms, waiting rooms, bedrooms and "detox bar" have all been equipped with simple furniture made from noble materials. This clinic is a haven of peace and relaxation, which is enhanced by it discreet address, for those who want their visit to pass under the radar. 
Clinique Alphand 23 Rue Pergolèse, 75116 Paris
More informations: clinique-alphand.com