For a firmer future!
This new serum is a powerful firming and brightening booster that is formulated with 20% stabilised vitamin C combined with niacinamide, which enhances its collagen stimulating action. It also contains peptides from resveratrol and mulberry that reduce accumulated pigmentation, and peptides that relax the muscles that cause wrinkles.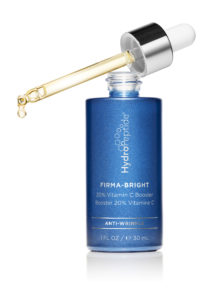 Firma-Bright can be used alone or added to the moisturiser or serum of your choice. When applied in the evening, it promotes overnight skin repair. You will love its ability to radically change the elasticity of your skin while improving the appearance of pigmentation.
info : hydropeptide.fr