Song Saa Private Island is located in Cambodia's untouched Koh Rong archipelago on two neighbouring islands known as "the Sweethearts". Song Saa is Cambodia's first luxury private island resort. 27 intimate villas have been built from sustainable materials with design inspired by Cambodian fishing villages, which is reflected in the thatch roofs, over-water buildings and beautiful, custom-made driftwood furnishings.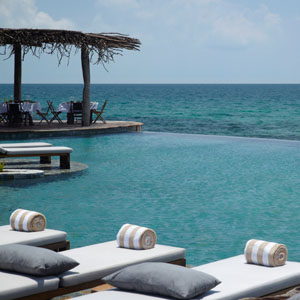 Song Saa has a strong focus on holistic wellbeing, with villas that are nestled in the serenity of the rainforest and along the ocean shore. The Refresh programme focuses on mental clarity and detachment from stress. Luxurious spa treatments are offered in a nurturing environment, allowing you to rest, escape and return anew.
Song Saa Private Island's Rejuvenation Retreat integrates diet, physical activity and indulgent spa treatments to detoxify, purify, and leave you feeling refreshed and renewed. Inspired by the Blessing Spa menu, this retreat is cleansing and empowering, allowing you to take control of your health, and establish a lasting foundation for ongoing happiness and wellbeing.
Song Saa Private Island / Koh Rong Archipelago, : Cambodia
Tel. +855 23-989-012