When the latest biotechnological advances become a reality in cosmetics.
Today, INNÉIS boasts five innovative products with regenerative benefits for the face. By transposing these medical innovations into the cosmetics industry, this premium brand is able to offer several creams and serums that contain a key active – "AFFINÉIS" – which helps fight aging and promotes skin regeneration: "L'ÉNERGIE" day cream gel – "L'HARMONIE" day cream – "LE RÊVE" night cream – "L'INÉDIT" day serum – "LE CHARME" eye contour.
A range* whose silken texture is quickly absorbed by the skin for maximum comfort, with long-lasting effects thanks to each's product's specific properties. Revitalised and energised, the skin is smoother and recovers its lost structure. Revived, the facial features recover their lost shape and radiance.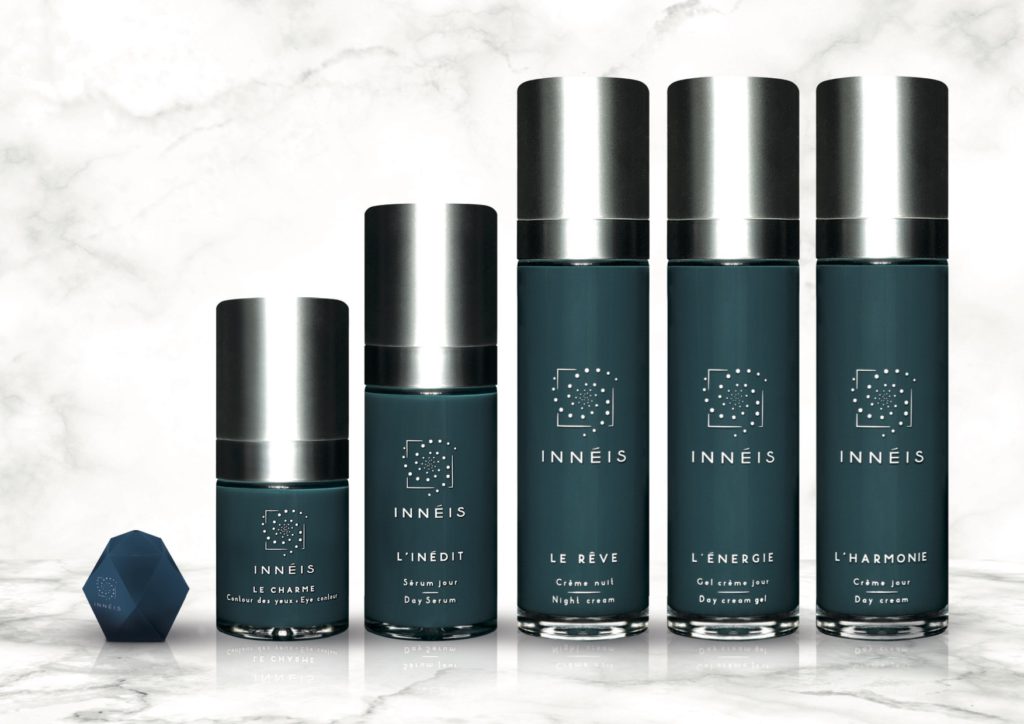 Tomorrow's medicine at the service of beauty. David VANDROUX – doctor, biologist and founder of INNÉIS – tells us about these revolutionary products.
INNÉIS is a new, premium brand born out of biotechnology. Can you tell us a bit about it? "It all started ten years ago, when I was supporting research carried out by Dijon University Hospital on the biological mechanisms involved in the regeneration of organ tissues after stress, with a particular focus on the role played by certain mediators such as collagen. Our aim was to exploit the potential of these natural participants in regeneration, to make new medicines in order to treat diseases that currently have no effective treatments. To do this, we developed our own techno- logy that enables us, through engineering, to create – using our precise knowledge of these mediators – new, more effective molecules that are better suited to a given indication. This is how we currently use this technology in the medical eld to help control bleeding in the event of severe haemorrhage (road trafic accidents or during surgery, for example).
The usefulness of our knowledge lies in our ability to create new molecules, as required, which will become new innovative products for regenerative medicine. Furthermore, with the fundamental mechanisms that allow the regeneration of tissue being similar to those of the skin, it is now possible to create new, more effective cosmetic actives to ght against skin aging and bring about its regeneration. This is how the new INNÉIS cosmetic range was born."
What makes the INNEIS range so revolutionary for cosmetics?
"INNÉIS is revolutionary because of its expertise and technology, which have been reinforced over the last 10 years and have enabled us to invent our key active, AFFINÉIS. To create it, we explored the mysteries of collagen to extract its most valuable basic elements and put them together inside a new collagen active, which is the only one of its kind in the world. AFFINÉIS is currently protected by more than 20 international patents. It is produced in our laboratory in France by a highly-qualified team, with a wealth of cutting-edge expertise and following a complex procedure. This is why today we are marketing a revolutionary range of cosmetics, enriched with our innovative active. Our products are mixed (for men and women) and have the ability to physiologically activate the skin's regeneration mechanisms and make up for any collagen de ciency caused by aging."
AFFINEIS is the key active in the range. What is its secret?
"The secret of AFFINÉIS is actually collagen itself. You need to know that collagen is the most abundant protein in the human body. It is responsible, among other things, for the skin's elasticity and tonus. The loss of collagen and the slowing down of its production by the skin's cells as the years pass encourage the appearance of wrinkles. The aim is to compensate for this deficiency. Collagen can be extracted from different natural sources, however its unique structure, and particu- larly its large size, make it difficult to use in cosmetics and limits its effectiveness. Thanks to our technology, we have got around this limitation and have invented a new collagen called AFFINÉIS, which is specially designed for use in cosmetics. For this we have made it miniature-sized while preserving its biological properties and the efficacy of natural collagen. AFFINÉIS is therefore a new and unique active on the cosmetics market, it is a world first. This innovation is the secret behind INNÉIS products which, thanks to their unique formulation, have a regenerative action."
Thanks to the products created using its very own technology, INNÉIS is positioning itself as a pioneer in the cosmetics market. Its ambition is to become a leader in the design and marketing of innovative cosmetic products, using actives produced by the latest advances in biotechnology, with its rst innovation being the collagen revolution.
Sneak Peek: Discover our INNÉIS products from november 2017 in new-generation single-dose applications, which have a unique design and are easy to carry around. The ideal way
to try out our range!
________________________________________