Correcting Boosters.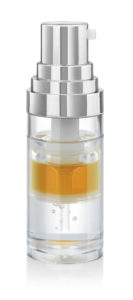 The Correcting Boosters from Filorga's Skin Perfusion range are 5 serums that target the different skin concerns. Equipped with Mix'N Boost technology, an integrated activation system inside each opaque and airless bottle, they preserve all the vitamins and nutrients needed to fight dehydration, wrinkles, slackness, marks or flaws.
Try them now: Hydra-Booster, Time-Booster, Lift-Booster, Bright-Booster, Balance-Booster.