Anti-aging care that protects against daily aggressions – Uriage
This innovative range boasts the first patented Blue Light Barrier, to protect the skin from the harmful effects of blue light. Thanks to a combination of plant, vitamin and pearl extracts, the BLB complex acts as a protective shield, preventing the light from penetrating the skin. To reinforce this action, a second shield focuses on pollution. Made up of two plant resins, Filmexel is a "second-skin" that prevents fine pollution particles from sticking to the skin's surface. The range includes multi-action creams, including one with SPF30, a multi-action fluid, serum and eye contour, a detox night cream and a night cream peel.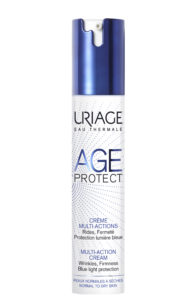 The multi-action cream is priced at €30 for 40ml.