ENEOMEY have come up with a new dimension in cosmetics: plasticity!
The new REJUV programme offers a high-performance solution for all women who want to improve their skin's suppleness. Made up of a plumping anti-aging serum, REJUV ELIXIUM, and a redensifying anti-aging cream, REJUV SILK, this innovative programme enhances your skin's suppleness, making it firmer, plumper and redensified.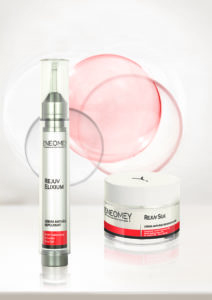 The synergy of these two products reboots cell multiplication and the natural production of hyaluronic acid and collagen and elastin fibres. The oval of the face is tightened, the skin is firmer and smoother.
It's the ENEOMEY effect!