A stunning new hotel!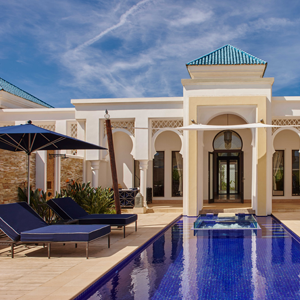 With its 92 villas, this will be the first resort to offer a deluxe "All Pool Villa" in Morocco. In its villa, which has its own private pool, guests will be able to enjoy unlimited spa treatments. They will also be able to discover the nearby 'Cabo Negro Royal Golf Club' and 'Tangier Royal Golf Club', and savour dishes from all over the world in the resort's three restaurants:
– Tingitana: Fusion cuisine with a Mediterranean and oriental influence
– Saffron: A creative approach for delicious, contemporary Thai cuisine
– Azura Beach Club: A menu made up mainly of grilled fish and seafood.
Banyan Tree Tamouda Bay Route Nationale 13, POB 526. 93100 Fnideq, Morocco Tel.: 00 212 539 669 999