L'île de la Lagune – France
An open-air jewel, Relais & Châteaux, thalassotherapy-spa
Here we are in France's most intimate thalassotherapy centre, a kind of dazzling ship set between this not-so-wild lagoon and the continent. In Saint Cyprien, this 5-star hotel that earned the Relais & Châteaux certification in 2018 (the second French thalassotherapy establishment to do so), welcomes guests in a modern, designer and vintage setting that manages to be chic yet cosy, a delight to the five senses! The 24 bedrooms are decorated in a luxury yacht style, and the refined "L'Almandin" restaurant offers dishes created by one-Michelin-starred chef Christophe Schmitt to titillate the taste buds. The cherry on the cake is the small private beach down below, with a small motor boat that ferries guests to the white sandy beaches on the opposite side of the lagoon.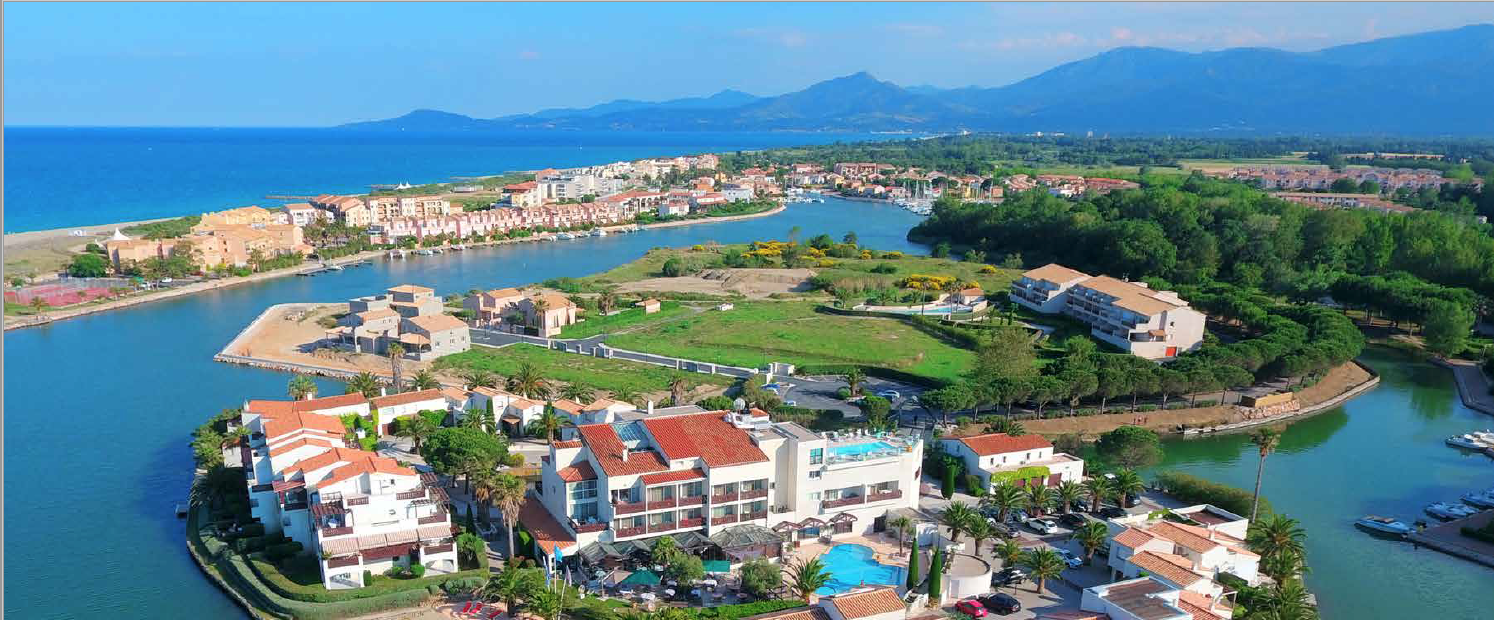 "L'Almandin" a Michelin-starred restaurant
In this modern restaurant, you will find refined, organic cuisine made using locally sourced produce. By favouring local distribution channels and producers, young chef Christophe Schmitt, who earned his stripes in Le Fouquet, among other restaurants, got his first Michelin star within 18 months of joining the L'Almandin. His passion for the local area and products led him to showcase their essence, and his quest for simplicity could never border on mediocre, because paring back to such an extent requires outstanding rigor. He works with superb regional products: Mediterranean red mullet and tuna, local tomatoes, asparagus, citrus fruits from Michel Bach.s in Eus… The idea of marrying tonka beans and foie gras in one exquisite mouthful is daring, but delicious, and the result is unbelievably light…
The thalassotherapy spa offers supreme relaxation
The 9 treatment rooms are enveloped in an atmosphere of elegance and comfort that encourages guests to unwind. The saltwater swimming pool, which is heated in summer and winter, takes centre stage on the rooftop, offering spa-goers breathtaking views of the lagoon and the Mediterranean. The warm welcome and personalised service are delightful. The spa works primarily with two brands: Thalgo for body treatments and Carita for face and hair treatments. There are several . la carte cures, such as the Carita "Perfect Woman" and "Ideal Man" one-day packages or the "Fitness and Gastronomy Cure", all of which include lunch in the L'Almandin restaurant, as well as the traditional 4 and 6-day cures, such as the "Premium Fitness Package" that restores your tone and vitality.
New for 2019
The "Zen Attitude" package reconciles your mind and body through a subtle blend of thalassotherapy, world massage, yoga and sophrology. Take back control and stop stress from invading your life (minimum 6-day cure).
---
L'île de la Lagune 5-star Relais & Châteaux
Hotel – Restaurant – Thalasso-spa
Boulevard de l'Almandin, 66750 St. Cyprien, France.
Tel. +33(0)4 68 21 01 02