mesoestetic® presents brightening peel booster. A gel that renews and clarifies skins with hyperpigmentation, uneven skin tone, blemishes and signs of photoaging. A treatment particularly recommended after the summer when the skin tends to look dry, dehydrated, lacklustre and dull.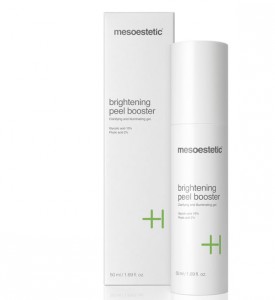 brightening peel booster, with 10% glycolic acid, significantly boosts skin hydration and luminosity. It stimulates cell renewal mechanisms, activates collagen and elastin synthesis to improve skin elasticity and soften wrinkles. Pores become visibly tighter and dyschromia fades, giving skin a clearer, more luminous appearance and a more even skin tone.
brightening peel booster can be used as a continuous home care treatment or as an adjuvant to medical-aesthetic treatments, particularly depigmenting and antiaging treatments. It preps the skin, leaving it in ideal conditions by increasing dermal penetration of the active substances subsequently applied.
Visit us at AMEC booth nº C23.
For more information, please visit www.mesoestetic.com or call +34 93 638 80 40.