With leading international experts gracing the stage, hands-on education, live demonstrations and other activities that will inspire all beauty professionals, you can find the gathering of beauty spa, beauty salon, medical beauty, wellness and health with the latest products, ideas and equipment at China Beauty Expo 2018.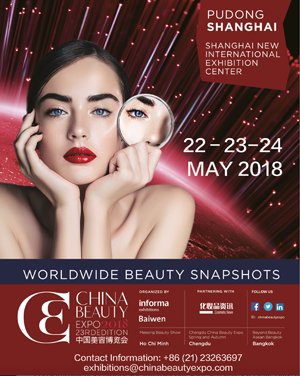 Category: Nail Art, Eyelash and Embroidery Beautification, Beauty Salon and SPA Products, Equipment and Furnishing, Medical Beauty.
Partial Exhibitors from: France, Germany, Switzerland, Japan, China, etc.
Highlight Activities: Medical Beauty and Anti-aging Skin Management Conference (A gathering of local and international medical beauty and anti-aging experts)
WILL 2018 BE A BREAKTHROUGH YEAR FOR ANTI-AGING IN THE CHINESE MARKET?
As we enter 2018, we're seeing more beauty products with "anti-aging" features – and they're not just for 40+ consumers anymore. The ultra-premium brand, CPB, under Shiseido, focuses on products that will repair the skin and provide anti-aging benefits. The brand has found that 60% of China's online consumers are under 30. According to a recent study by Zion Market research, the global anti-aging market, including anti-wrinkle and lightening products, will reach $216 billion by 2021 – an annual growth rate of 7.5%.
In 2018, China Beauty Expo (CBE) is addressing the growing anti-aging demand with several key events. CBE will host the Medical Beauty and Anti-aging Conference for the fourth year on 23rd May, 2018. The conference will bring together top experts and brands from the global anti-aging field. They'll share insights on the market, products, technology, and marketing strategies as they explore future business opportunities in this sector.
more informations
Informa exhibitions – Baiwen – Beyond Beauty Events Room 2201 & 2204, Hong Kong New World Tower, No. 300 Huaihai Road (Middle) Shanghai 200021, PRC