Du 31 Mai au 3 Juin 2018 – The 8th Internationl Educational Course-Training for Cosmetologists on non-surgical rejuvenation medthods, will be held in St Petersbourg, Russia
Scientifics sessions : 
Skin: looking for perfection and improve reality
«ANTI-AGEING» – What does it mean?
Botox therapy in cosmetology: What else is possible?
Injectables: how to choose the right one?
Aesthetic gynecology: what are the possible solutions?
When patient health is not ideal … (cosmetology and endocrinology, oncology, autoimmune diseases, cardiology …)
Threads : avantages and drawbacks
Global approach and innovative solutions for the correction of difficult areas
Complications in procedures
Medical aesthetics for youth: what do they want?
Manager Day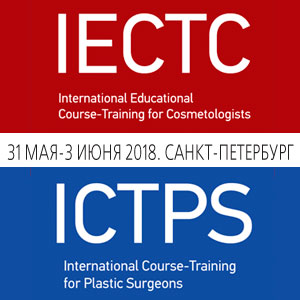 Anatomy online courses, live in introductory course in masterint techniques and methodes, procedures for information treatment.
IECTC Saint-Pétersbourg , Russia
More info:  www.iectc.ru