Dr Sandrine Sebban
Until now, there were no topical treatments capable of adjusting any superficial irregularities after hyaluronic acid injections. We only used hyaluronidase, and only in the case of important side effects. Today, SoftFil® laboratories have developed a brand-new topical treatment that fulfils the needs from doctors for a product that can be applied to the surface of the skin to even out any skin irregularities.
A drop too much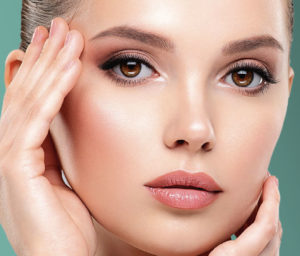 The over-injected look is a phenomenon that cosmetic doctors know only too well. Just a few drops too many or using a product that is unsuitable for the treatment area can lead to an unattractive result. Over the course of my career, I have seen a certain number of patients who are disappointed by their face's appearance, and who want me to "do something". Though the vast majority of patients are happy with their treatment, the rate of problematic results is on the rise, in proportion with the number of procedures carried out and the broadening age range of consumers; in the last few years we have seen more and more Millennials coming in for cheekbone reshaping and lip enhancement, a tricky but hugely popular procedure. These procedures have been carried out for over 20 years all over the world and, given the current trend for 3D facial volume enhancement, the risk of experiencing undesirable side-effects is a real one.
Problems that specialists know only too well
Doctors are well aware of the problems that can arise, some more serious than others, and they have listed them as follows: swelling caused by an excessive amount of product injected, asymmetry, the lower eyelid displaying an irregular appearance, or an eye bag that has developed following an injection into the under-eye area, over-injection of the lips, post-injection swelling that can last from a few hours to a few days, and, finally, the appearance of granulomas in reaction to the presence of a foreign body. The latter are very rare with hyaluronic acid, and often they are false granulomas caused by a mass of too-dense product. In the most serious cases, patients say that they no longer recognise themselves and that their expressions have been altered, or that their appearance has a visible "injected" look, sometimes evoking negative comments from their loved ones. These criticisms, combined with the modifi cation of their features and therefore a loss of distinctiveness, makes them feel anxious, ashamed and guilty. Until now, the only treatment that could tackle serious complications was injectable hyaluronidase, an enzyme that brings about the speedy break-up of hyaluronic acid. But this enzyme can cause a severe allergic reaction, triggered by the animal-origin ingredients, as well as slackening the skin, which leads to sagging, and severely dehydrating it, from which it recovers very slowly over between one and two months.
Topilase®, the fi rst patented "dermo-adjusting" topical cosmetic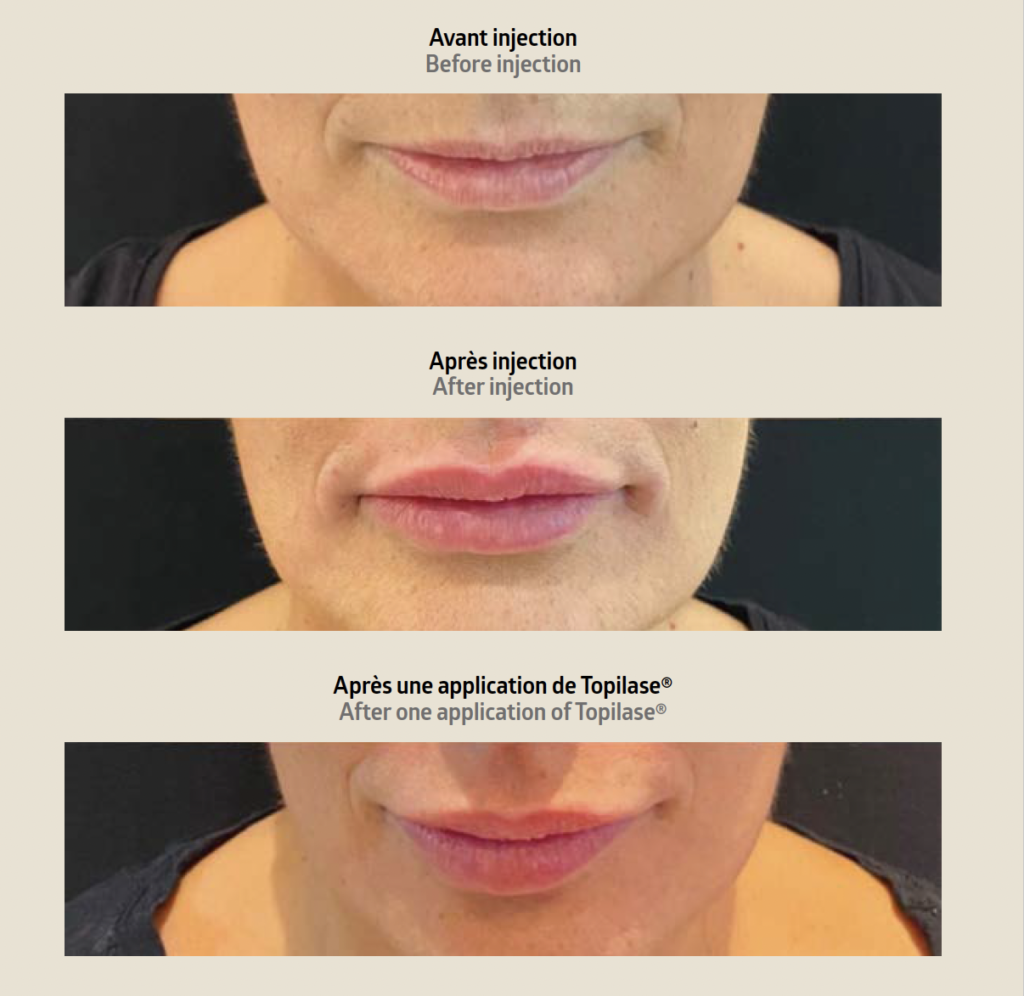 With my wealth of experience working in the Softfil® laboratories, specialising in developing cannulas and safe and innovative injection tools to make procedures easier for doctors to perform, I wanted to create something that was missing in our field. With the help of a galenic pharmacist, I worked for three years to develop a topical cosmetic product that smooths surface irregularities, tones down any flaws and evens out hyaluronic acid levels, as well as harmonising the appearance of any treatments. This product can refine the results of injections for a high-precision finish. Presented as a topical cream, Topilase® is formulated with an enzymatic complex containing hyaluronidase, lipase and protease, as well as a concentration of 100% natural ingredients, selected for their reparative, soothing, purifying and anti-swelling properties: concentrated aloe vera combined with a complex of lavender, immortelle flower, myrrh and cistus essential oils. This complex helps the actives to penetrate into the skin for optimum efficacy when reducing superfi cial volumes, reducing any surface irregularities, and adjusting any unsatisfactory results, even in the case of old injections. For every type of irregularity, I have developed a protocol applicable in 1 to 6 sessions spaced 10 to 15 days apart, with precise quantities of cream to be applied. Topilase® is packaged with a special dosing nozzle along with a specially-designed brush to make the application as precise as possible. For use only by healthcare professionals, this patented topical treatment has been subjected to clinical trials, laboratory tests and tests to check its eye and skin safety, compatibility and stability according to cosmetic regulations to ensure that it is safe and effective. A satisfaction survey has been carried out among 20 international doctors, dermatologists and surgeons. In my opinion, this dermo-adjusting topical product is an essential tool. I now almost systematically apply a thin layer of Topilase® to reduce any swelling after injecting the lips or under-eye area, and it allows me to refine my results even more accurately, to harmonise the volumes and smooth the skin's appearance, as well as correcting any asymmetry or other problems highlighted by the patients who come to see me for this reason.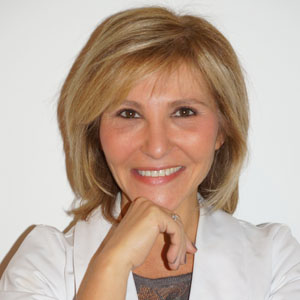 Dr Sandrine SEBBAN: Doctor of Medicine specialising in Aesthetic Medicine. 20 years' experience in all medical aesthetic techniques Inventor of the "SoftFilling Technique" in 2009 Inventor of the "STOP Facial Ageing MethodTM", 2017 Inventor of the SoftFil® EasyGuide insertion needle
More informations: softfil.com/fr