By Dr. Laurence Barry
Today, more and more patients want to improve their skin quality through non-invasive, effective techniques with little or no side effects. New technologies are developing in response to the demand for natural results and painless procedures.
Photobiomodulation
Due to innovation in the field of dermatology and medical aesthetics, a completely new approach called photobiomodulation instead of biophotonics has emerged to treat the overall quality of the skin. Photobiomodulation is a technology that transforms light energy to stimulate or regulate the cellular activity of the skin.
For several years I have used the action of LEDs to promote rapid tissue repair after my treatments with Laser, IPL or Peeling. With this new technology, it is possible to generate the emission of multiple wavelengths through fluorescence to penetrate the different layers of the skin and stimulate deep cells and tissues.
A unique mode of action
Based on the principle of photosynthesis, the Kleresca® multi- LED lamp (emission of specific pre-programmed wavelengths) is used to illuminate a photo-converter gel containing chromophores that will convert the light emitted into fluorescent light energy. This fluorescent light penetrates the different layers of the skin and stimulates the intrinsic mechanisms of cellular repair found in the skin. Thanks to this gel, which is different depending on the indication (acne or rejuvenation), the fluorescence emitted covers the green, yellow, orange and red colors of the light spectrum. Photobiomodulation is also used to normalize cellular activity.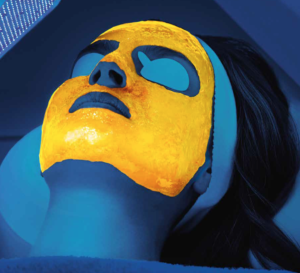 Clinical indications
The studies carried out have demonstrated a high level of safety and efficacy of this treatment, which is essential for me when I propose a new treatment to my patients. Currently, Kleresca® Skin Treatments can treat all types of skin in two indications:
Treatment of the inflammatory, pustular and cicatricial phase of acne. Kleresca® Acne Treatment significantly reduces inflammation, lesions and scarring in moderate to severe inflammatory acne with proven efficacy over 6 months with no reverse effect. The protocol is 12 sessions, within a 6-week period.

Improves the skin quality of the face, neck, décolleté and hands: Kleresca® Skin Rejuvenation helps smooth fine lines, reduce pore size and increase collagen production. The protocol consists of 4 sessions, one session per week.
The treatment is pleasant; patients describe a feeling of warmth during the 9-minute biophotonic process.
The observed side effects (redness, tanned effect…) in some patients are all transient and last a few hours up to a few days. However, it is interesting to note that the treatment does not create photosensitivity and can therefore be carried out all year round, even in summer. The results are not immediate, but appear over time because the skin regenerates deeply. These results are long-lasting and the skin continues to improve several weeks after the end of the protocol.
The Kleresca® biophotonic platform that works through fluorescent light energy has multiple benefits for my patients both in dermatology and medical aesthetics: non-invasive, pleasant, with simple, effective, natural and long-lasting results that perfectly complement my therapeutic arsenal.
---
Doctor Laurence Barry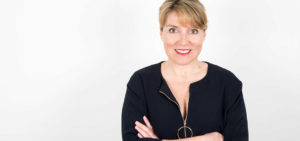 DES Medicine. Trained at the National College of Aesthetic Medicine of Paris V (2001-2003). Graduate in Anatomy applied to Aesthetic Medicine (Paris V). Medical, Paramedical and Laser Center "M.decine pour Elles". Expert Doctor and trainer in Aesthetic Medicine, professional peels and injection techniques. Speaker at national and international medical congresses.