Comprehensive care
La Réserve, with its stunning views of Lake Geneva, offers an extensive range of services. In addition to the topclass accommodation and catering, it was the establishment's dietary, sport, mental health and, of course, anti-aging care that truly won us over.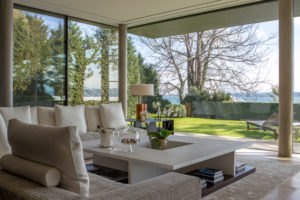 As suggested by its name, La Réserve is a timeless lodge set in four hectares of grounds leading down to the lake, though with no wild animals in sight… This 5-star hotel and spa, with its 73 bedrooms, 29 suites and one 385m2 villa, is a taste of paradise just 5km outside Geneva.
The décor is inspired by Africa: wood, leather and club armchairs might send you "Out of Africa" but the place is given a modern twist with its specialist gastronomy (the Tsé Fung restaurant is Switzerland's only Michelin-starred Asian restaurant), paperless Harcourt Studio, and international "Art in the Park" pieces dotted around the gardens and spa.
The bedrooms are luxurious with a wealth of refined details, such as the cotton satin bed linen, black granite mosaic bathrooms and outdoor views, some boasting a patio that leads straight out to the swimming pool. There are several suites: the La Reserve Suite, the Presidential Suite and the Royal Suite with its two terraces, one of which measures 100m2.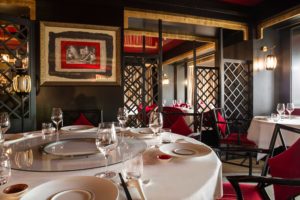 When it comes to dining, there are five mouth-watering options, each immersing diners in a different atmosphere: Le Loti with its flavoursome voyages, Tsé Fung with its menu created by Frank Xu, Café Lauren's healthy cuisine, La Réserve Traiteur with its personalised suggestions, and Le Bar with its expert mixologist and menu inspired by chef Frédéric Calmels. We particularly enjoyed the Tsé Fung, a hot spot for Chinese gastronomy. Chef Frank Xu has made traditional Peking duck his culinary signature, and the black lacquer d.cor will transport you straight back to 1930s Shanghai.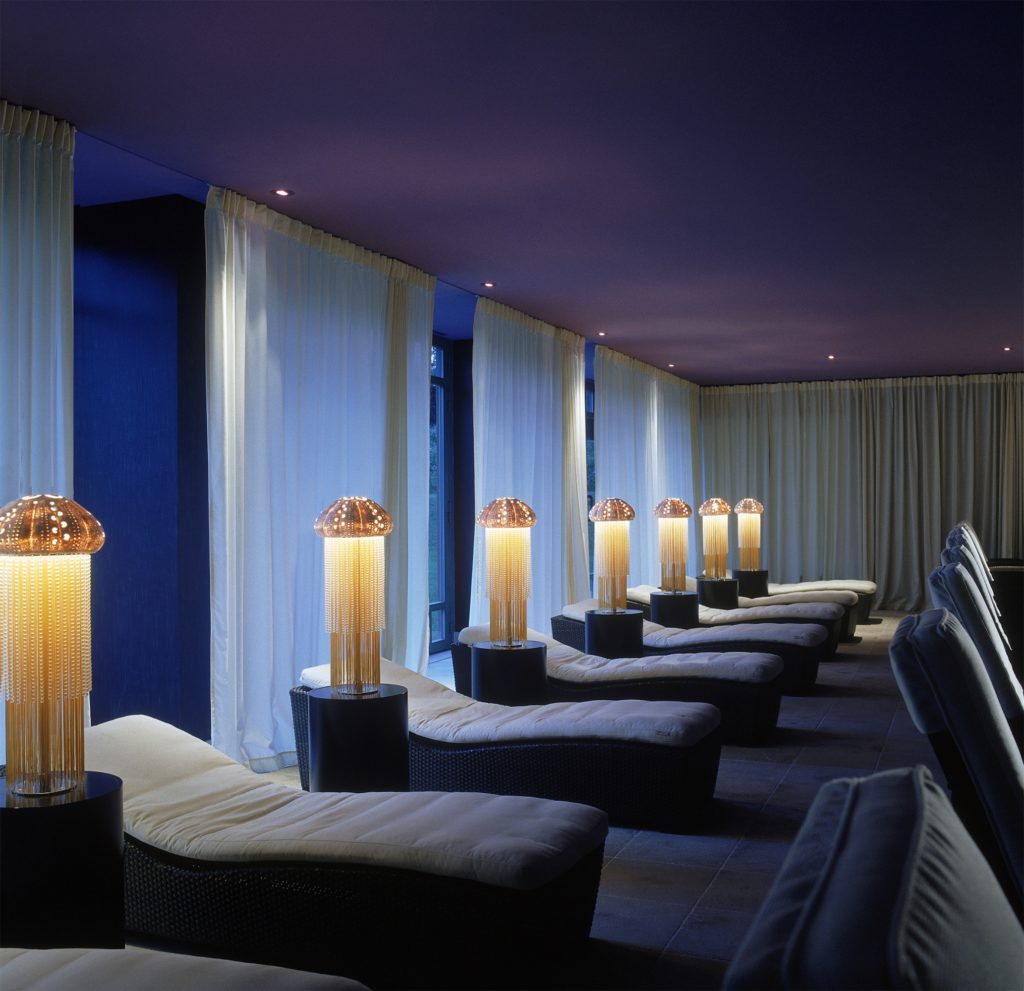 COSMECEUTICAL TREATMENTS
In addition to its massages and Better Aging programmes, the spa offers two ranges of cosmeceuticals: Nescens and La Prairie. The former uses formulations created by Professor Jacques Proust, the latter by Doctor Paul Niehans, founder of La Prairie Clinic. Their common ground is that they both maintain your youthfulness with a high concentration of anti-aging actives. When you have a Nescens treatment, you benefit both from the massage technique (draining, densifying, lifting, etc.), performed by an experienced therapist who focuses on your problem areas, and the actives that fully renew the dermis as well as the cell tissue. There are eight different facials available, covering all requirements in terms of prevention, correction or regeneration, such as the Resurfacing Anti-Aging Corrective treatment, which reboots the cell cycle, strengthens the skin's defences and erases fine lines.
La Prairie is famous for its Exclusive Cellular Complex, which is blended with precious ingredients such as caviar, gold or even platinum. The brand also offers eight treatments, including the Ultimate Platinum Rare Rejuvenating Treatment. It uses the Platinum Rare Cellular Night Elixir and the Platinum Rare Cellular Eye Cream. Result: intensely renewed skin! There is also a men's treatment available: the "La Prairie Signature Gentleman's Facial".
Nescens Spa: salon treatments
Depending on which package you choose, it may or may not include entry to the spa. Flying the flag for the Nescens brand, which will be familiar to our regular readers, the spa offers a comprehensive approach based on nutrition, cosmeceutical treatments and a special collaboration with the Genolier Clinic, where Professor Jacques Proust practises (see our interview in a previous issue).
For spa manager Claire Martin, it provides a gateway to the Better Aging universe. With 56 staff (17 of which are therapists) and 7 treatment booths, the aim of the Nescens Spa is to help you live better and for as long as possible.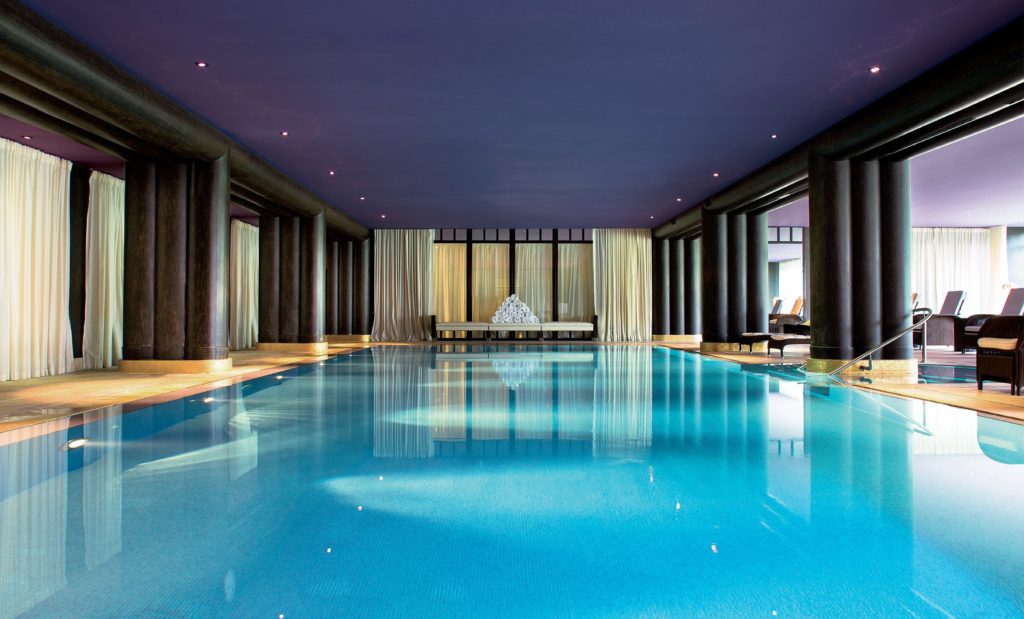 The anti-aging cosmeceutical treatments are based around five cornerstones: cleanse, target, correct, exfoliate and supplement, with treatments for the body, face, eyes and lips. We tried the Premium Anti-Aging Repairing Body Care treatment, which is for body and face and lasts 90 minutes. Our massage therapist used a cleanser, a metabolism-activating toner, a bioidentical rehydrating serum, a cell-renewal emulsion and a molecular regenerating emulsion, a sequential micro-peel and, to round it all off, a bioidentical reconstituting mask and renewing gel mask. Our skin has rarely been treated to so many actives in just one session!
Better Aging packages
In addition to the salon treatments, guests can take their treatments one step further with the "Healthy Aging", "Better Aging" and "Anti-Aging" packages. Claire Martin says, "The Better Aging package can be over 4, 7 or 14 days and aims for intense regeneration by taking into account your weight, stress levels and, generally, all of the risk factors that might affect you. First of all, we carry out an assessment to offer personalised solutions, namely with regard to nutrition. We also offer appointments with an osteopath, a dietician and an anti-aging specialist." If you go for the 4-day package, you have access to the spa as well as 4 massages, 2 wraps, 4 water treatments and 1 exfoliation treatment, topped off with 3 training sessions and 3 healthy, personalised meals.
Check-ups at the Genolier Clinic
The icing on the cake of this palette of treatments and packages is the access to the Nescens Centre for Preventative Medicine in the Genolier Clinic. Just a stone's throw away from La R.serve, you can benefit from targeted checkups to pinpoint any potential pathologies, evaluate your health and identify any risk factors. Nescens medical check-ups are the first step to a successful prevention strategy. Including a clinical, biological and radiological assessment, they allow for the early diagnosis of any diseases, identify any potential risk factors, and establish the body's degree of aging. A customised prevention programme is then recommended, with or without a medical prescription.
This anti-aging approach was drawn up by Professor Jacques Proust, who researches the biology of aging at the Gerontology Research Centre (National Institute of Aging, National Institute of Health) in Baltimore and at John Hopkins University. He is the founder and director of the Nescens Centre for Preventative Medicine. He also formulated the cosmeceutical products for the Nescens range.
International expansion
La Réserve Geneva and the Genolier Clinic have an ever-growing network of centres in both Switzerland and abroad.
You can follow up your stay by taking part in a boot camp at the Réserve Ramatuelle or visiting one of the twelve Genolier Swiss Medical Network establishments, including the Clinique de Montchoisi, Clinique Valmont, Clinique Générale, Centre Médical des Eaux-Vives, Clinica Ars Medica, Clinica Sant'Anna, Privatklinik Bethanien, Privatklinik Lindberg, Privatklinik Obach, Clinique de Valère and Hôpital de la Providence. A total of 1,200 doctors practise in this network.
Finally, if you would like to have some cosmetic surgery done, all of the most common procedures – such as a breast reductions, face or body lifts, liposuction, rhinoplasty, etc. – are available both at the Genolier Clinic and at the Clinique Nescens Paris Spontini, where they are performed by an internationally- renowned team of surgeons.
---
La Réserve Genève
Hôtel Spa et Villa
Route de Lausanne 301,
1293 Bellevue, Suisse