Glutathione, being a strong antioxidant with additional anti-melanogenic properties, has recently become the most popular systemic skin lightening molecule.
Our cells contain Glutathione, which is a substance made from three amino acids: cysteine, glutamate, and glycine. Glutathione acts as an important antioxidant in our body, preventing the damage caused by free radicals and boosting the immune system. It is an essential component of melasma and depigmentation treatments due to its capacity to inhibit melanin synthesis.
It is an important antioxidant in plants, animals, fungi, and some bacteria and archaea. Glutathione is able to prevent damage to important cellular components caused by reactive oxygen species such as free radicals, peroxides, lipid peroxides, and heavy metals. It is a tripeptide with a gamma peptide linkage between the carboxyl group of the glutamate side chain and the amine group of cysteine, and the carboxyl group of cysteine is attached by normal peptide linkage to a glycine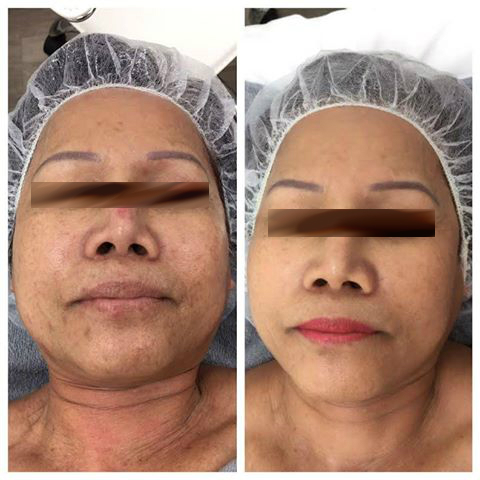 .
Bearing all that in mind, MCCM by Mesosystem, S.A. recommends the Glutathione Treatment Line: Glutathione Peeling, Glutathione ampoule and Glutathione cream. It inhibits melanin synthesis, neutralizes free radicals and improves cell renewal. The results are a regenerated and renewed skin, improving the skin brightening. Moreover, results are shown after the first session.
Glutathione Peeling is a powerful antioxidant that can be applied on the face but also on darker parts of the body. It provides the skin with a radiant glow, redefining pores and improving coetaneous hyperpigmentation. 
As homecare recommendation, one should apply the Glutathione cream in the morning (which inhibits melanin synthesis in the reaction of tyrosinase; neutralizes free radicals and maintain exogenous antioxidants such as vitamins C and E) and the MelanoOut Cream in the evening to promote the lightening and whitening effect on the skin. Of course, one cannot forget to apply the Sun Cream 50+ every day as well.
Therefore, Glutathione is a master antioxidant and helps fight the free radicals. It is and anti-ageing in nature and is a part of the natural UV defence system and thus, protects the body from harmful UV rays. Moreover, it helps in reducing the dark melanin pigments, and converts them into lighter pigments, thus, making the skin fairer, brighter and more even-toned.
MCCM by Mesosystem, S.A, medical cosmetics, is about making the world happier. Located in Vila Nova de Gaia, Portugal, Health, Research and Leadership are our main values. We are passionate about skin health and extremely committed to innovation and results. Hence, our brand is the result of more than a decade of client-driven research and development aimed at creating the best skin care treatments in the market and becoming leaders in excellence.