By Randa Ghattas
The name Pausilya comes from the Greek Pausilypon, which means "respite from worry" or "the place where one recovers one's health". A spa, a haven of wellbeing on the bay of Posillipo, the city's most residential neighbourhood. Breathtaking panoramas, unchanged for the last thousand years, offering extraordinary views of Vesuvius.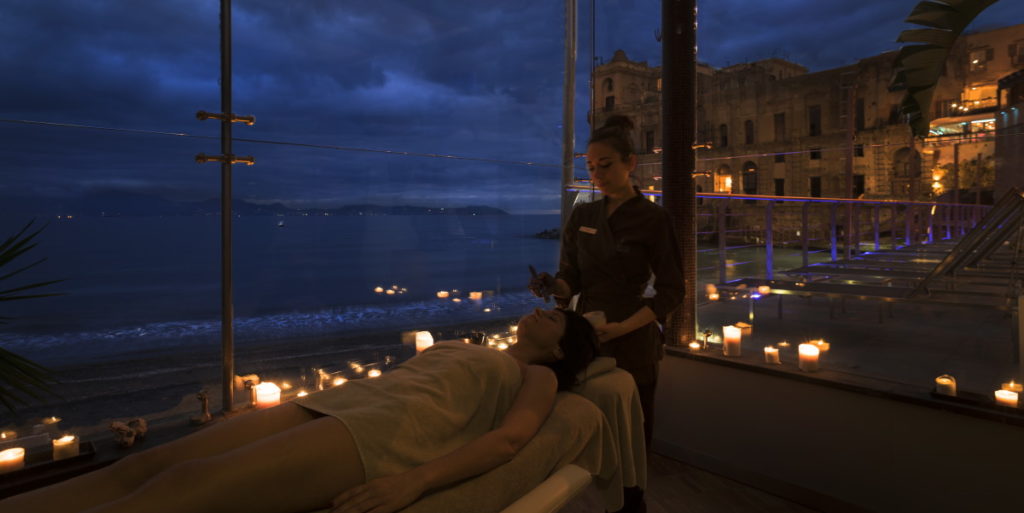 The jet set of Ancient Rome all owned villas along this coast, where they enjoyed thermal holidays to boost their health and keep them in shape. The Pausilya inspires wellbeing and meditation, and this magical place is represented by a logo featuring two, subtly interlocking curves representing sea water and spring water. In this unique place in Naples, spring water from deep within the Earth's crust blends with seawater that stretches as far as the eye can see. For nature lovers and die-hard romantics, it is the ideal place for a stroll along the sandy beach, watched over by the neighbouring
Donn'Anna Palace, which is where the name "Therme di Donn'Anna" came from. A voyage back to the source leads us to the history of the palace, which was built in 1642. Legend has it that Donn'Anna was insatiable and, so that she did not get bored, a parade of lovers – such as passing sailors – paid her visits during the night. Once her pleasure was consummated, to preserve her reputation, Donn'Anna Carafa simply got rid of them, without a trace of remorse…
AN ANCESTRAL MINERAL SOURCE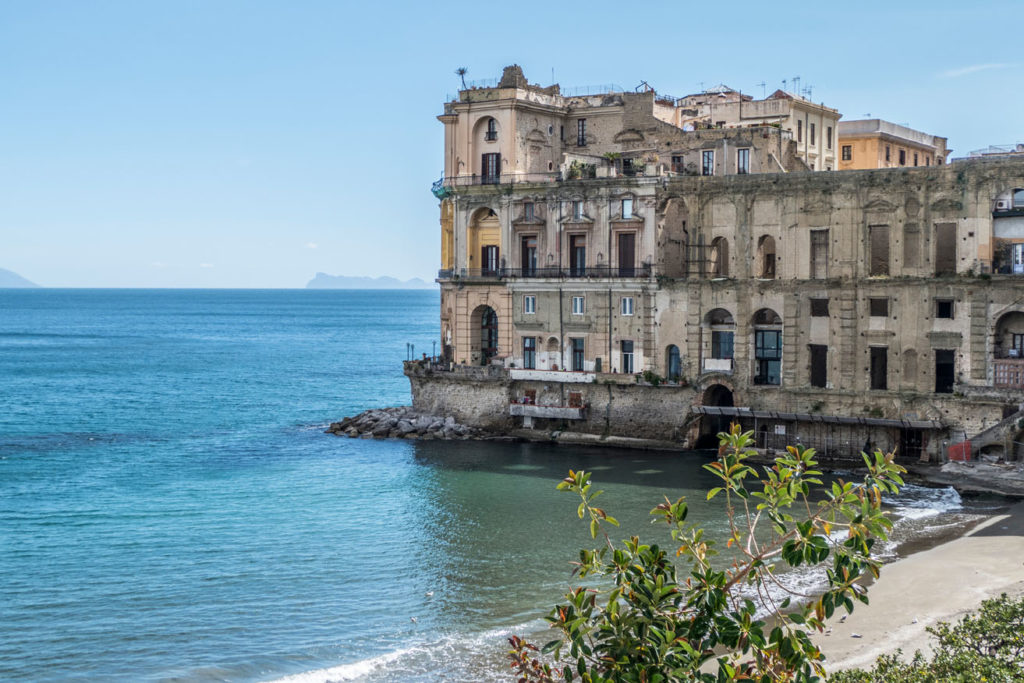 In the cellars of the Pausilya, the charming owner will take you along a tunnel where thermal water fl ows from one of the active underground springs, volcanic calderas that have been omnipresent since ancient times. The most famous ones are those in the Phlegraean Fields, not far away in the Gulf of Pozzuoli, where Sofia Loren was born. You can also fi nd fangaia there, a volcanic mud that is used for therapies or sold as a hydrothermal cosmetic.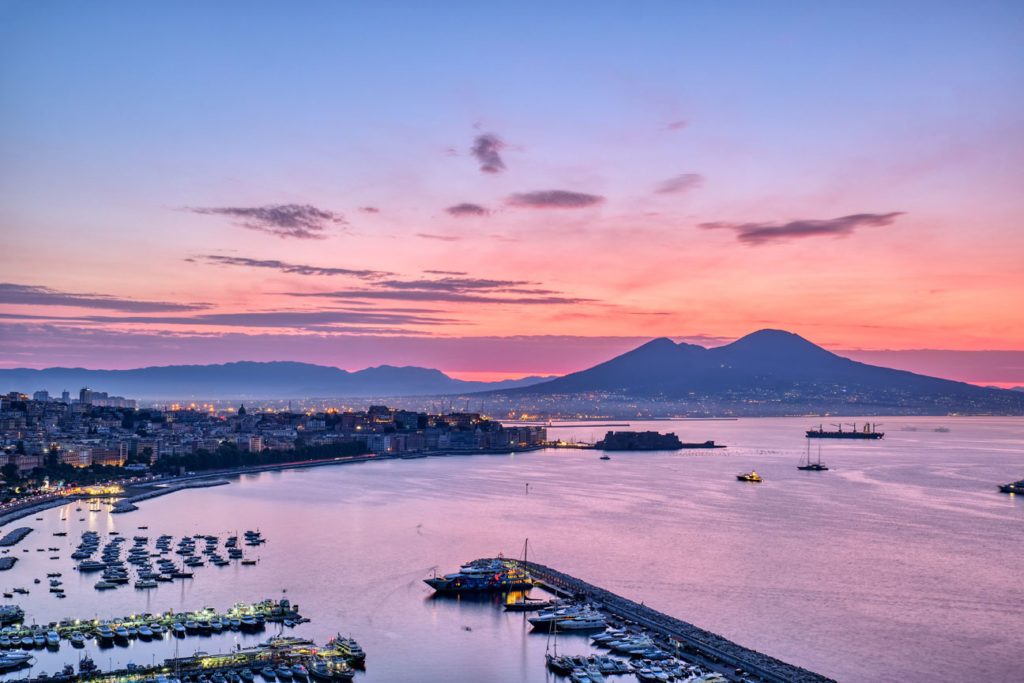 Reap the benefi ts of the thermal water and mud by choosing the 80-minute "Ritual dei Fangi" treatment, which includes a steam bath and a thermal water shower, a sea salt exfoliation, a mud wrap and an almond oil massage.
From a dermatological point of view, the thermal water and mud have a cleansing, anti-inflammatory, decongestant and sedative action. They soothe a number of illnesses such as dermatitis, seborrhoea and psoriasis. The sulphur, magnesium and calcium in the spring water also improve muscle contractions.
ADVANCED AESTHETIC MEDICINE TREATMENTS
For those who want to have some aesthetic medicine treatments, the Pausilya boasts a number of devices, including a Viora V-Form, which boosts skin regeneration using bipolar/multipolar radiofrequency, a Mantis dermo-massage unit which regenerates the conjunctive tissues with pulsed magnetic fields, and a cavitation machine to destroy the fat cells. All of these treatments can go hand in hand with more classic treatments such as permanent hair removal, exfoliating massages and anti-cellulite treatments. Finally, make sure you try the two-hour wellness itinerary that includes two whirlpool baths (heated to 32° and 34° respectively), a Roman bath, a Finnish sauna, a Turkish bath and multi-sensory showers with colour therapy. The very best thing is the terrace, which looks out across the sea, where you can enjoy fresh fruit and herbal teas while relaxing in a hot tub.
ISCHIA: THE REGINA ISABELLA THERMAL HOTEL, RIGHT ON THE COAT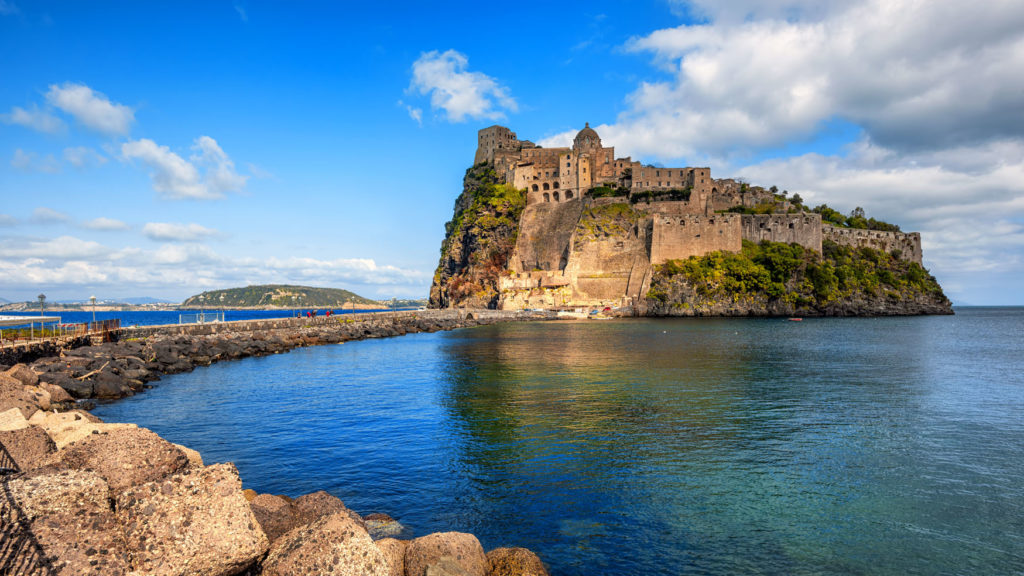 On the horizon, you can make out the island of Ischia. A shuttle transports guests to this island, whose thermal baths date back to the 8th century BC. The "green island", with its rich vegetation, is also a volcanic island where the Regina Isabella Resort & Spa proudly stands, named after Queen Isabella of Bourbon who went there to have her health cures. This corner of paradise was founded in 1953 by the famous editor and fi lm producer Angelo Rizzoli and boasts 4 swimming pools, two of which are fi lled with thermal water, as well as mud baths and massage rooms. The Indaco restaurant is Michelin-starred and serves local cuisine.
The only 5-star luxury hotel on the island, the Regina Isabella, a symbol of la dolce vita, has welcomed many a celebrity for a romantic getaway, from Liz Taylor and Richard Burton to Maria Callas, who secretly met up with Onassis on the beach. This alcove can also be reached via a private jetty. This 5-star establishment has thermal springs at a temperature of 56°C and 77°C with "bio-active" properties, and mud collected from the island's quarries is used for a number of medical and aesthetic treatments.
This synergy between thermal tradition and medical-scientific analysis led to the creation of a "Medical Prevention and Health Treatments" unit.
Take the time to explore Ischia, which is the largest island in the gulf of Naples. Make a detour to the Phlegraean Fields, which broke away from solid land millions of years ago. The site boasts a number of activities that use magma, as well as various places where the sea water is heated by submarine volcanic eruptions, creating a natural jacuzzi!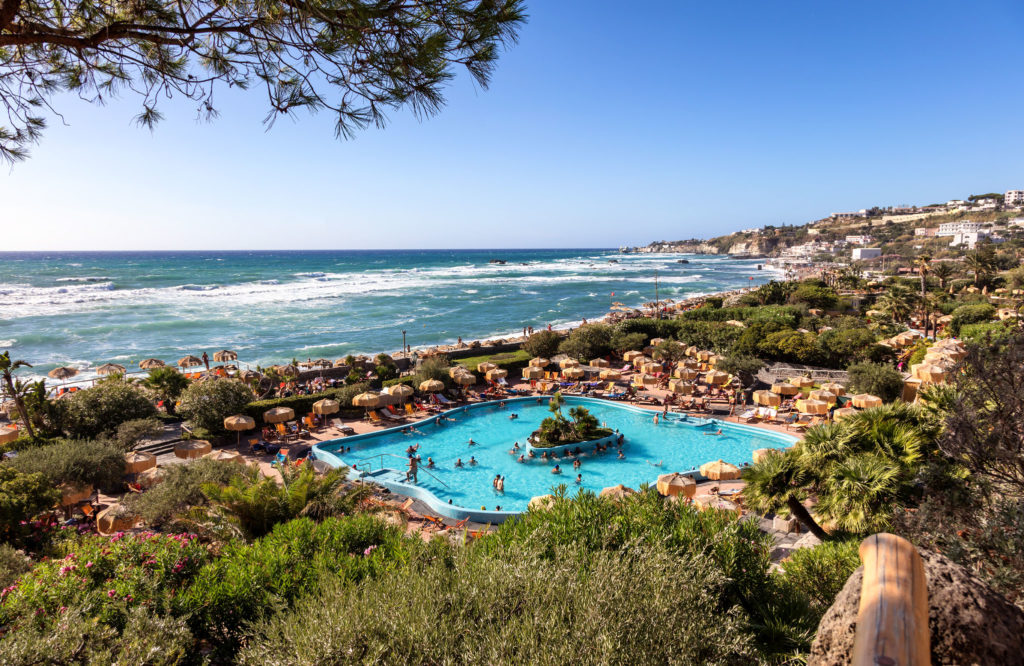 For something fun, try "le fumarole", which involves cooking fresh fish in 350° steam underneath the burning sand. A truly unique experience. It has everything you need to recharge your batteries!
NAPLES AND THE SURROUNDING AREA
"See Naples and die", the saying goes. Here, everything is steeped in passion and improvisation, beauty and exquisite pleasure. The city was founded by Parthenope, one of the sirens in Greek mythology, when she washed up on a rock on its seductive shores. You need at least two days to take in the city's culture and tourist attractions. More athletic visitors might go hiking up Vesuvius, a dormant volcano that reaches an altitude of 1,281m. Culture vultures might choose to explore the mysterious city of Pompeii, which bears witness to the Ancient Romans' prosperity but was entombed in 79 BC.
At sunset, head to Brandi to savour their mouth-watering Margherita pizza, which is made from succulent local ingredients: tomato, mozzarella and basil. It was named after Queen Marguerite of Savoie when she visited Naples for the fi rst time.
Pausylia, Therme di Donn'Anna – Via Posillipo, 19, 80123 Naples, Italie Email: info@pausilya.it – Téléphone : +39 081 575 3578 – pausilya.it
Albergo Regina Isabella – Piazza Santa Restituta, 1, 80076 Lacco Ameno – Ischia reginaisabella.com – Téléphone: +39081 994 322