By Doctor Ghislaine Beilin
Nowadays, numerous treatment techniques are used in the slimming industry, which is constantly evolving.
It is difficult to choose between the slimming techniques that use cold, injectables, lasers or other, sometimes radical, techniques. In order to stay competitive, certain laboratories are striving to offer natural technologies that respect the body. We take a closer look at ReduStim from Cosmosoft, a Class IIa medical device for slimming and health, using a unique and non-invasive technology: BioStimology®.
Cosmosoft is a French company that has designed, manufactured and distributed professional medical devices for slimming and fitness since 2002. ReduStim is part of its healthcare range and the device's technique for naturally activating the body's fat-releasing mechanisms enables it to gradually and painlessly eliminate subcutaneous and visceral fat, which is particularly dangerous because it can cause cardiovascular disease, stroke, cancer and male and female infertility. Visceral fat is considered the world's leading cause of mortality by the WHO.
What is BioStimology?
ReduStim boasts a unique, patented technology called BioStimology®: "bio" to evoke the biological and natural action of the bioenergetic field on the body, and "stimology" to refer to the technology that stimulates fat lipolysis in the cells. Its 100% natural action unblocks the fat in the adipose cells, releasing energy and consuming the excess fatty acids. The stored fat is eliminated as though being burned off naturally, leading to a significant reduction in body fat mass, subcutaneous fat and abdominal fat. Harmless for the body, painfree and with no side-effects, this "gentle" technology enables patients to slim down efficiently and for the long term, without destroying any cells.
A unique action
ReduStim is an electrical control unit connected to a full body suit that combines two simultaneous actions. The main action is based on emitting a bioenergetic field to stimulate the body to get rid of its body mass. The second action is controlled skin micro pressure, which leads to lymphatic draining to improve blood circulation and eliminate toxins and metabolic waste.
To be more effective, we can complement the device's action with other more targeted methods such as cryotherapy, infrared, lasers, etc. ReduStim enables us to reduce abdominal obesity but works more comprehensively to slim the whole body. Designed for people who are overweight or obese, it is suitable for treating both men and women, and offers an average 6.2cm loss around the waist, which is equivalent to dropping two dress sizes in 4 to 6 weeks.
A course of a minimum 12 sessions lasting 30 to 45 minutes is recommended, at a rate of 2 sessions per week. One or two top-up sessions per month are recommended after the course of treatment, in order to optimise and preserve the results. The results achieved after a course of ReduStim last for around 6 months. The cell reactivation mechanism continues long after the last session, providing that the patient follows a healthy diet and a weekly exercise plan. ReduStim is an ideal tool for all healthcare professionals who want to offer a comprehensive treatment for their larger patients.
More info: 
ReduStim: https://biostimology.com/en/medical-area/
Aesthetic Devices: https://biostimology.com/en/
---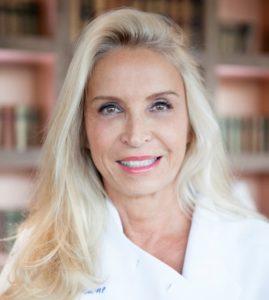 Docteur Ghislaine Beilin
ESAAM President l European Society of Preventive, Regenerative and Anti-Aging Medicine
SNME Vice-President – French Union of Aesthetic Doctors
Medical surgery – 39, Rue de Lisbonne – 75008 Paris – Tel.: +33 (0)1 42 94 02 43