Bangkok, Thailand, March 2017– The once a year big gathering in ASEAN beauty & cosmetics market—Beyond Beauty ASEAN-Bangkok ("BBAB") will present a fresh new and record-breaking edition from September 21 to 23 at Challenger 3, IMPACT Exhibition & Convention Center. With an expected increase of 20% in both exhibitor and visitor numbers, BBAB has truly grown into an outstanding platform for beauty industry players from the entire product chain.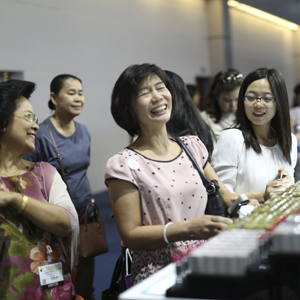 More than 600 companies will exhibit over 1500 brands in 2017 composed of 45% from local Thailand market and 55% International brands. Exhibitors will have the chance of meeting 20,000+ trade visitors, 250+ hosted VIP buyers and be part of 2,000 matchmaking meetings. National pavilions, including China, Germany, Indonesia, Japan, Korea, Malaysia, Myanmar, Spain, Taiwan and Vietnam will continue to bring over qualified brands, products, technology and innovations to ASEAN market.
The gateway to the Southeast ASEAN beauty and cosmetics markets                                                               
This 3-day trade show will act as a true regional gateway for industry players who want to expand in the booming South East ASEAN market representing a population of 600 million and a market size over US$ 14 billion. This trade platform is a great way to explore and benchmark the best opportunities taking place in the area.
Brand New Sector in 2017
In addition to Beauty & Cosmetics, Hair & Nail, Herbal & Health, OEM & Packaging, Aesthetic & Dermatology, BBAB introduced in an all-new "Spa & Wellness" segment to compose the six key segments.
Thailand is a Spa & Well-being Hub for ASEAN and international market. In 2015, Thai Spa Association estimate 15% growth for Spa Industry, 6-10 % growth for Destination Spa, 10 – 20% growth for Day Spa and Hotel & Resort Spa, and 10 -15% for Spa Products. The value of international spa tourism business should achieve at 31,155.48 million bath, 12% growth for export product and 2,240 million bath for spa service, management, and other.   (source: Thai Spa Association)
Brand New Concept—BBAB SUPPLY CHAIN
In 2017, BBAB will become a true platform for whole supply chain from Manufacturing, distribution, OEM to packaging. It has grown beyond an exhibition to a comprehensive and fruitful annual festival for all experts on the entire supply chain.
Feature events of BBAB 2017!
AESAN RETAIL BEAUTY SUMMIT
BBAB is an essential industry gathering providing you with a unique opportunity to conduct business in a highly focused environment as well as take part in a thought provoking conference program, Led by some of the
most influential experts in the industry, the summit will present an array of the most current topics, including new trends of retail concept stores, online & offline promotion etc.
PERMANENT MAKEUP WORKSHOP & LIVE DEMONSTRATION 
For the 1st time, BBAB will be featuring a special new segment on a rapidly emerging beauty trend in Asia, permanent makeup which is a cosmetic technique which employs tattoos (permanent pigmentation of the dermis) as a means of producing designs that resemble makeup, such as eye lining and other permanent enhancing colors to the skin of the face, lips, and eyelids. Leading local and international speakers will be presenting during this workshop with live demonstration on the latest techniques of permanent makeup. Beside the workshop will be the exhibit area of leading permanent makeup companies from across the world to showcase the uniqueness of this beauty craze that is taking the beauty world by surprise.
BBAB Aesthetics & Dermatology Congress 
The development of aesthetics is moving at a very rapid pace in this new era of prosumerism. Prosumers no longer want products or services but real quantifiable benefits of the latest aesthetics technologies and procedures. Top speakers will discuss and explore topics ranging from holistic anti-ageing treatments to dermoscopy tips. This is a good platform for you to be ahead of consumers in this new frontier of prosumer needs for Aesthetics.
Beyond Beauty Trends Conference 
A selection of international and local speakers will lead a conference program specially designed to explore the upcoming beauty trends in the world. This event will also collaborate with InFASH, Thailand institute of Fashion Research (part of INTERCOLOR), to feature fashion and color forecasts and concepts.
Co-organized by the Federation of Thai Industries, Informa Exhibitions and IMPACT Exhibition Management, BBAB 2017 is a comprehensive platform for the ASEAN beauty industry and effectively mirrors the Thai beauty industry as the hub for the beauty industry in Southeast Asia. BBAB 2017 also serves as an effective platform for SMEs in the ASEAN beauty industry to access the trade, networking and knowledge opportunities.
Mrs. Ketmanee Lertkitcha, Deputy Secretary – General and Honorary Chair of Cosmetics Industry Group, The Federation of Thai Industries expressed that "The Council, in cooperation with the private sector support Beyond Beauty ASEAN-Bangkok 2016, is a great opportunity to promote Thailand as a hub for the ASEAN Health and Beauty markets and elevate the advancement of Thai Health and Beauty knowledge to the next level to fulfill the needs of the world market, which recently has a market value of more than USD15 billion or 7 percent of the world's cosmetic market."