Global anti aging global programme
Cream + capsules
Glycation is the slow and ongoing process that leads to the "caramelization" of proteins and in particular collagen and elastin.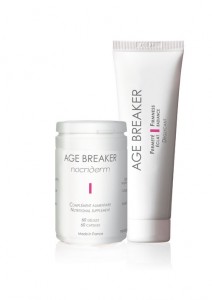 Directly involved in the signs of skin aging (loss of elasticity, pigmentation disorders, wound healing disorders …), glycation can be controlled by using nacriderm AGE BREAKER, cream and capsules.
With AGE BREAKER of nacriderm, you take control of your skin aging.
Deglycant
Firmness, radiance
Patented innovation
Available on nacriderm.com