The CRISTAL implements apoptosis of fat cells that are more sensitive to cold. At low temperatures (-8 ° C), they die and the body gradually eliminates them in a perfectly natural way. The CRISTAL is to date the best representative of the medical Cryolipolysis device . The CRISTAL is devoid of any consumable and uses new cooling system that allows the practitioner to define customized treatments parameters to his patients.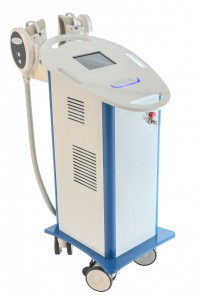 The CRISTAL is medical CE certified (CE 93/42) and can treat two areas simultaneously. Today, a variety of 7 different applicators are available to treat any fat rolls of the body.
Discover the latest of the series: the Amethyst applicator for the treatment of " saddle bags " has been patented in 2015 and will guarantee you spectacular results.