IN 2022, THE AMWC IS CELEBRATING ITS 20TH ANNIVERSARY!
Interview with Catherine Decuyper and Christophe Luino,
founders of Euromedicom (Informa group)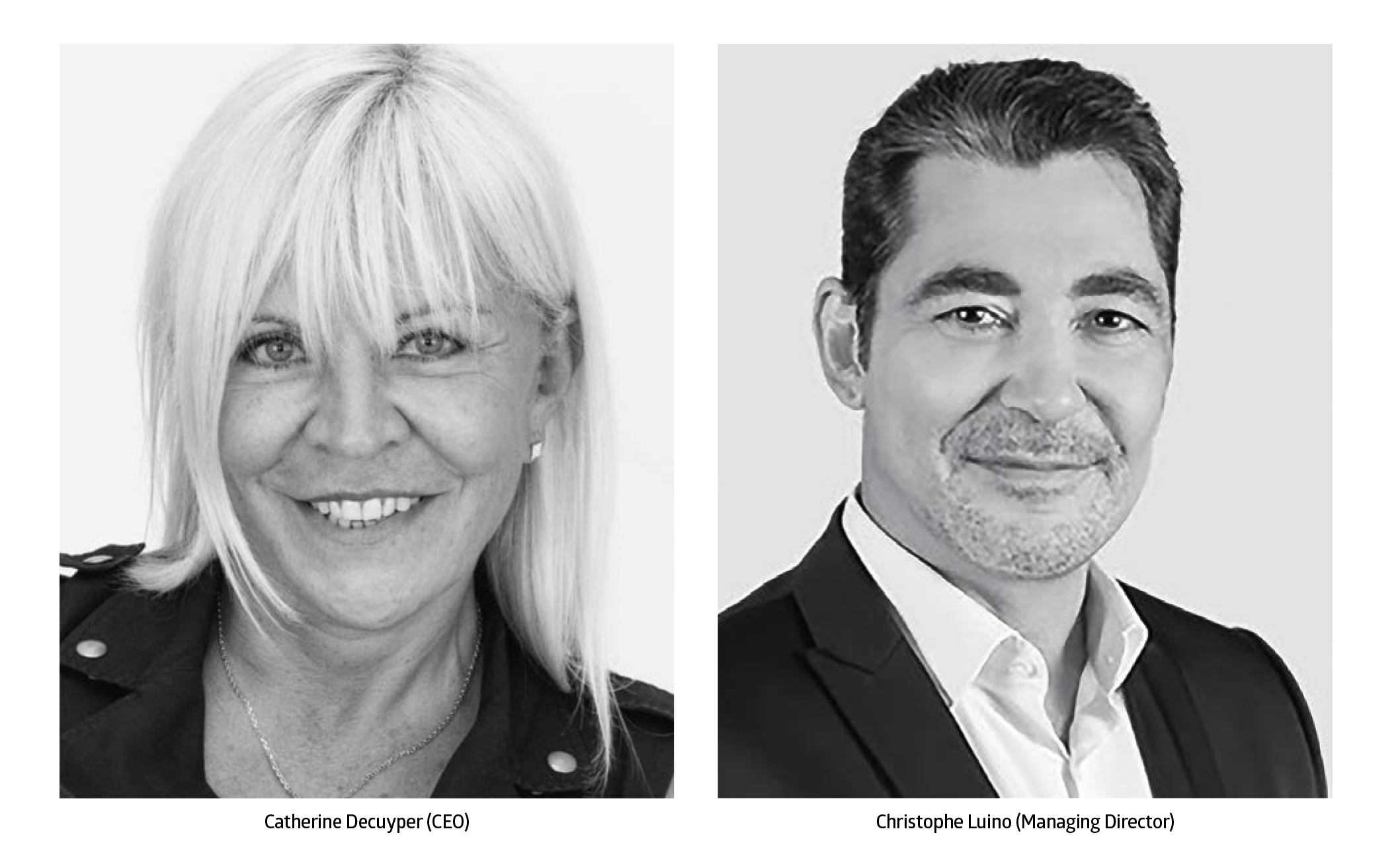 Interview by Thierry Piolatto
ANTI AGE Magazine: This year, the AMWC is celebrating its 20th anniversary, which promises to be remarkable. Who and what do you have lined up for this 20th edition?
Catherine Decuyper, Christophe Luino: A twentieth anniversary is, without a doubt, an important event. Unfortunately, Covid 19 – an uninvited guest that we have had to deal with for the last two years – will no doubt curb our celebrations. But it doesn't matter: the joy of being together again, will make this a fantastic celebration, with plenty of social and professional connections.
Ever since the AMWC was created in 2003, we have believed that every participant, whoever they are, contributes to the conference's success. We are grateful for their loyalty, their enthusiasm and even for their feedback and constructive criticism, which have enabled us to make improvements year after year.
We therefore believe that each and every one of them should have their time in the spotlight, whether they are recently qualified or experienced doctors, well-known or lesser-known speakers, or even stakeholders in the aesthetic and anti-aging industry. There are no superstars at the AMWC. The atmosphere is convivial and friendly; we are like one big family.
The 2022 event will include the launch of the AMWC Aesthetic Awards, which will applaud the best clinical cases presented by international practitioners in ten categories and the best industry products, also in ten categories.
AAM: Over the last 20 years, what have been the key events in the field of medical aesthetics?
CD – CL: The last twenty years have seen a remarkable evolution in the field of medical aesthetics and preventative medicine. Without a doubt, the safety of injectable products has been the most welcome evolution. The individual properties of these products have also been improved, to make them suitable for specific indications.
Injection techniques have evolved, too, going from classic injections into the nasolabial folds or glabellar to "full-face" injections, even injections into certain areas of the body. Whereas injections used to be to fill wrinkles alone, they are now used to transform certain features or facial flaws.
The social media boom has increased this demand. Though there have been some negative consequences, this revolution is nonetheless in progress, and we must keep an eye on how it evolves.
In terms of doctor training, our deeper knowledge of the anatomy – thanks to the dissection lessons offered by surgeons – has made injection techniques safer in delicate areas.
Energy-based devices (EBDs), which used to be limited to lasers, have really evolved in terms of the type of energy used, with radiofre- quency, ultrasounds, light (LED), etc.
A number of new indications have appeared, and these devices have become real therapeutic tools that are often combined with other techniques.
Tensor threads have recently adopted a more central place in the therapeutic arsenal. This is undoubtedly one of the treatments to watch.
Preventative medicine, a field that was rather limited 20 years ago (we were the first organisation in Europe to offer training courses in this field) is today considered to be a real preventative therapy. For example, our congress programmes have addressed the subject of the microbiota for a long time, well before it started to feature in magazine articles.
The latest noteworthy evolution is functional gynaecology. A subject that has long been taboo, today it is addressed in a much more open way. First of all, the aim is to treat women's issues connected with the menopause and childbirth. Certain techniques, originally purely aesthetic, have been studied to treat certain gynaecological issues and they have proven their efficacy, making it possible to address these problems that were previously left untreated.
AAM: What trends are on the horizon over the next 10 years: new products, new stakeholders, legislation?
CD-CL: It is difficult to predict trends. The progress made over the last few years has led to a high level of quality and safety, so there is less potential for progress in this respect. That said, there is always room for improvement.
Artificial intelligence will no doubt play a more central role in the future.
The first steps have already been made, with anatomy simulation to help make injections safer. These tools can help future doctors to become more assured when carrying out procedures, but they are of limited use to those who already have a certain level of experience, except if these tools start to reflect the specific anatomy of the patient who is undergoing treatment. We can expect great surprises from the transhumanism sector… Science fiction or active development?
AAM: With regard to congresses, Coronavirus was a shock for organisers but also a real opportunity to develop new digital approaches. How would you assess these changes for Euromedicom/Informa and, more specifically, for the AMWC: more online sessions, a larger community, new offers, etc.?
CD-CL: Coronavirus was a shock for the whole planet!
In the world of congresses, it was a violent blow but, in a way, it was beneficial because we had already started thinking about developing the digital aspect, so we were ready to put it into practice. Over the last few years, thanks to technical advances, we had been thinking about how our congresses could go online. There were conflicting opinions, but today, after two years of full digitalisation, we have proof: in-person congresses have a long and bright future because no digital system can replace the essential human contact that we find at our congresses.
Nevertheless, Covid-19 allowed for a very interesting advance to be made: today, our congresses have boosted their audience numbers by adopting a hybrid format. This allows us to welcome in-person participants while giving par- ticipants who are unable to travel to the venue the chance to follow the programme remotely.
Another positive effect is that the AMS platform (Aesthetic Multispecialty Society) has enabled us to develop webinars. This continuous, short and practical medical training is much appreciated by the 16,000 members of the AMS and its other participants.
We must highlight the commitment of our French and international speakers, who have really stepped up. They have all given their time in order to share their knowledge and we are extremely grateful to them.
Like in 2021, the AMWC will be organised in a hybrid format and will welcome more than 8,000 in-person participants and 5,000 more online. We are offering 9 rooms of scientific programmes over 3 days, including 5 in-person rooms with a live stream, and 4 reserved for in-person participants, with a video recording available after each session. Videos of all sessions will be available on demand, via the AMS platform.
AAM: The AMWC brand has spread across the globe: Japan, China, etc. What are the world's fastest-moving markets? Do you constantly need to adapt to the local markets or do they all have common ground?
CD-CL: Today, the AMWC is present in 6 countries and continents: Monaco, Asia (Taiwan), China, Brazil, Latin America (Colombia) and Japan. We also organise other congresses: FACE (London), ICAD (Bangkok), VCS-Vegas Cosmetic Surgery (Las Vegas), MCS- Miami Cosmetic Surgery (Miami), The Aesthetic Show (Las Vegas), VISAGE (Monaco).
The fastest-moving markets are Asia, the United States and Europe.
What is good about cloning the AMWC in different places is that we can quickly connect the different specialities in the different continents. When a new technique or technology appears on one continent, we can rapidly bring the information to the other continents. Similarly, if a speaker makes a presentation about innovations in the US, it makes it easy for us to invite them to Europe or Asia.
In short, we enable the information to circulate more freely among practitioners who might find it harder to circulate it themselves.
AAM: You are the founders of Euromedicom, which has joined the Informa group, a global leader. What are your projects and challenges, either personally or professionally-speaking?
CD-CL: We created Euromedicom in 1999, a time when congresses in the field of aesthetic medicine were almost inexistant or limited to a certain country. We gave them an international dimension.
Informa, the global leader in the field, bought out Euromedicom in 2010 and we have since been lucky enough to continue implementing our development strategy with the group's constant support.
Our aim is straightforward: to continue doing all that we can in order to satisfy our participants and partners. We are surrounded by wonderful teams on the different continents. We are proud of our collaborators and of the work they do every day. Our challenge is to maintain this cohesion between our teams and the "Euromedicom" spirit, which we have never lost.
More information on euromedicom.com/amwc-2022/en.html