An interview with Martine BUZON, President of REVITACARE.
Why is REVITACARE moving into the filler market?
The filler market is intricate, and it is arduous to find one's way around all existing filler products. Our expertise in the Hyaluronic Acid field enables us to make the difference.
I created REVITACARE convinced that prevention is the key to reducing skin aging. Thanks to CYTOCARE and HAIRCARE, we have become a reference in aesthetic medicine. Preserving skin quality being the core, we also need to fill existing wrinkles, modify or restore volumes. This filler combining some specificities and coming from our R&D was missing in our portfolio.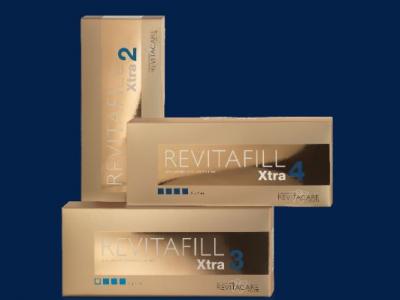 What must be the characteristics of a filler?
We identified 3 essential qualities for a filler. Viscoelasticity makes the filler flexible enough to follow facial expressions without being sheared by the needle during injection. Homogeneity gives it a uniform structure for a smooth result without particles that could induce side effects. Cohesivity helps the filler in resisting compression caused by facial expression without product migration or dispersion.
At production time, it is very difficult to obtain these 3 qualities at the same time. Most fillers only end up with one or two of them.
Why choose REVITAFILL Xtra?
Our R&D and fabrication process allows us to obtain these 3 essential qualities: viscoelasticity, homogeneity and cohesivity. We added to our hyaluronic acid-based formula glycine and proline to stimulate collagen synthesis. REVITAFILL Xtra safely fills wrinkles and restore volumes without frozen facial expressions. It stands out on the market thanks to its unique texture. You will see and feel the difference.