By Dr Luca Zattoni 
In recent times, devices based on muscle contraction, also thanks to lockdowns, are becoming more and more "trendy" but what we really need to focus on is a global treatment strategy. Diathermocontraction is precisely the combination of muscle contraction and radiofrequency (RF).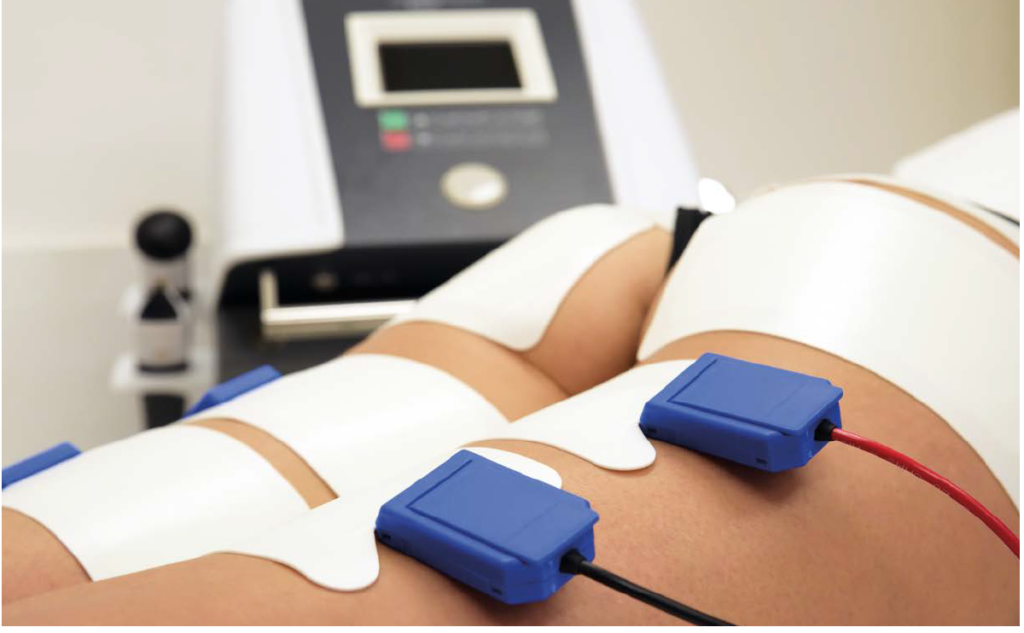 In recent years, the requests for unwanted fat removal with minimal to none downtime have much increased. For example, combined treatments of liposculpture and diathermocontrac-tion allow us to achieve results superior to liposuction alone with almost immediate resumption of daily activities. Radiofrequency (RF) diathermy is an energy transfer system, that amplifies tissue responses with increased cellular activity: production of ATP, oxygenation, contractile metabolism. It is a capacitive / resistive type of energy transfer, with a positive effect on biological tissues which is proportional to the quantity of radiated energy.
Diathermy is therefore a conversion of energy, generated by an RF device, which passes through biological tissues and causes the formation of heat. RF is an electromagnetic wave with a spectrum in the order of KHertz. In addition to stimulating contractile effects, this energy reduces infl ammation at the dermal-cutaneous level (transforming energy into heat) thus promoting dermal contraction which helps to improve the post-operative results of liposuction. Excitation at cellular level produces metabolic effects: increased vasodilation, increased oxygenation, analgesic effect and augmented contractility of actin and myosin filaments, causing maximal contraction of muscle fibres both in thermal mode (heat synchronous to contraction) and in athermic (wi-thout perceived heat).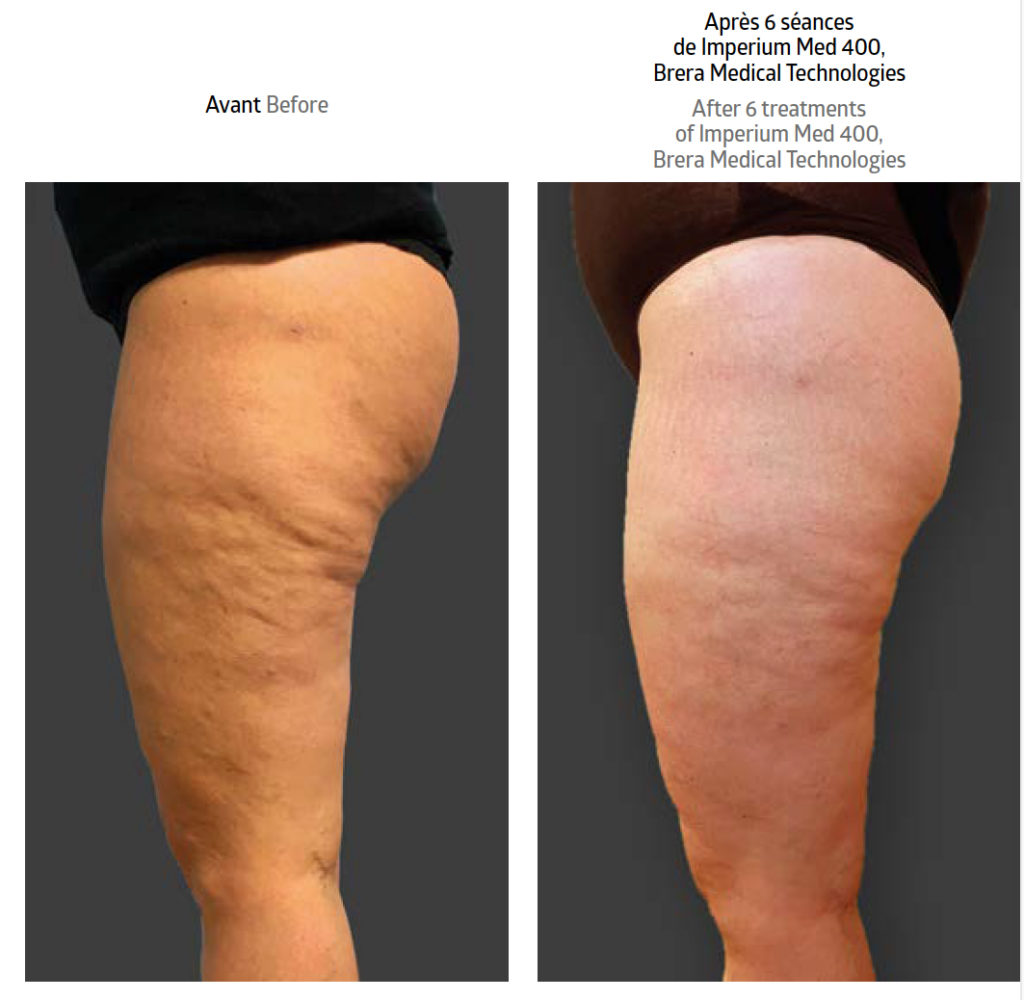 Muscle contraction at subtetanic level is useful for activating both muscle and adipose tissue metabolism (transfer of energy for contraction) and for activation of the muscle pump. This can increase the drainage of interstitial fluids, which are usually responsible for the persistence of swelling in the first months after liposuction procedures.
The importance of Imperium as a post liposuction protocol lies in the global approach that this device allows. Diathermocontraction is essential to treat the skin tissue with excellent results in terms of contraction of the dermis and at the same time it acts on toning and strengthening the muscular tissue, results not possible with other devices.
One of the biggest challenges for any surgeon is certainly to achieve fast healing, minimising post-operative oedema. This state, lasting up to 6-9 months, prevents immediate apprecia-tion of the results, and it is cause of frustration for patients. For this reason, in my personal protocols I have added 6 sessions of Imperium Med400, starting from 30 days post surgery.
This is because diathermocontraction significantly reduce post-operative swelling and skin irregularities, allowing the patient to appreciate the results faster, as well as to improve them considerably.
It is also a device that I use in cases where surgery is not necessary, or when the patient does not want to undergo inva-sive procedures. By combining ultrasonic cavitation, RF and diathermocontraction, significant improvements can be achieved without having to resort to surgery. With the Thermo-Gym mode the patient gets a powerful muscle stimulation, opera-tor free. The simple application of adhesive plates on muscle groups (from 4 to 8 active adhesive plates) allows to stimulate the selected areas in a maximal way with variable intensity and duration.
The Thermo-Gym has different preset programmes from body fat, cellulite, muscle toning…The patient keeps the treatment under control thanks to the stop button in his hand and the progress of the procedure can be controlled by the assistant, after the doctor has set the correct parameters.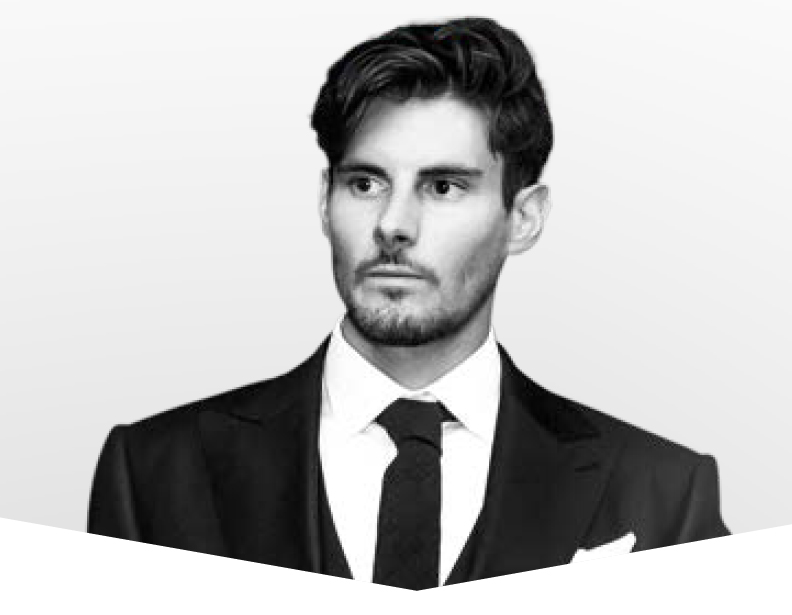 Dr Luca Zattoni: Dr. Luca Zattoni graduated from Universitas Studiorum Insubriae,. He is passionate about medical-surgical aesthetic procedures and specialised in Aesthetic Plastic Surgery at the prestigious 2nd Level Master in Humanitas University of Milan coordinated by Professor Klinger. Currently owner of two clinics in Milan and Como, he also works at the Vigevanese Medical Center as first surgeon and assistant to Dr. Garassino and Professor Spirito from Rome.
More informations: dottorlucazattoni.com