Frédéric Braccini, a surgeon of the face and neck, has a great many strings to his bow – teaching, training, writing, organising congresses – as well as being one of the world's most eminent rhinoplasty specialists. Here is a portrait of this important figure in aesthetic medicine.
"A desire to pass on my knowledge and teach"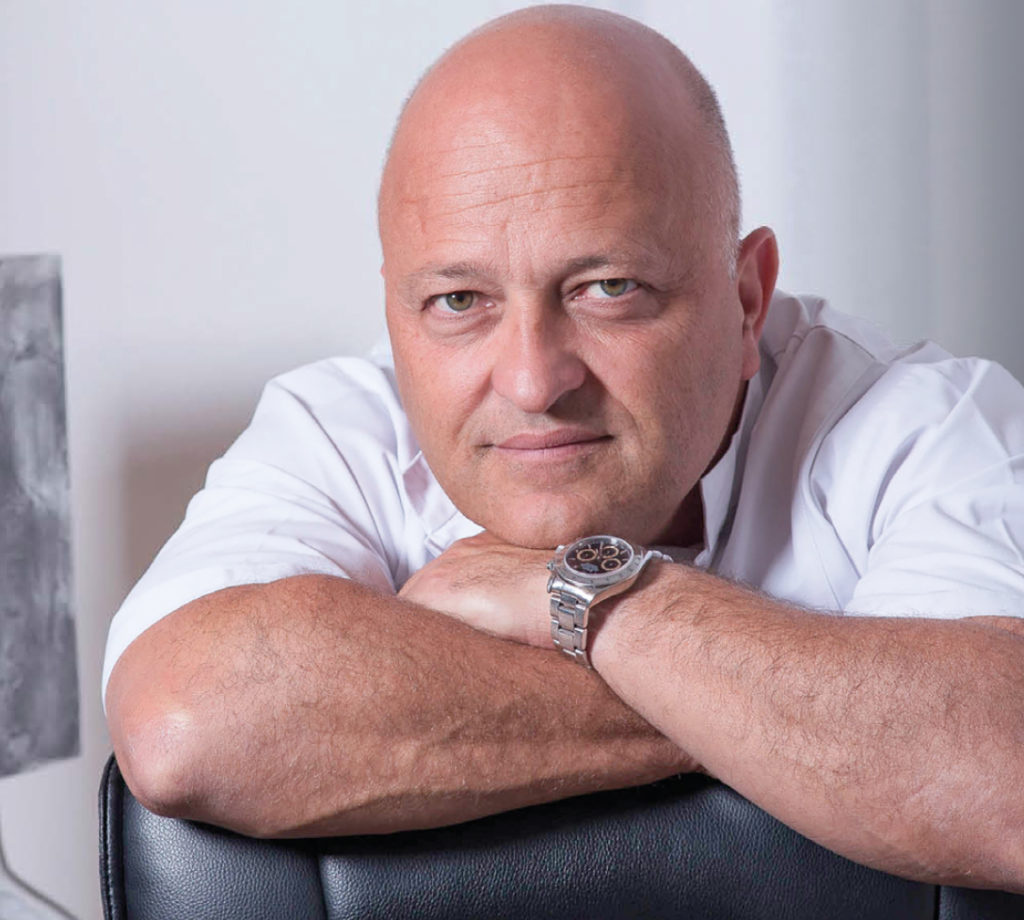 I have always felt the desire to pass on my knowledge and, as soon as I got the chance, I took great delight in doing just that. Sharing my knowledge has enabled me to build up a solid network of friends. I first found my vocation back when I was a junior doctor in Marseille, with my close friend Jérôme Paris.
Tell us about your career…
I studied at Nice faculty of medicine, then worked as a junior doctor and registrar in Marseille's hospitals. I was also an associate practitioner for 3 years at the American Hospital in Paris. For my freelance work, I set up my practice in 2011 in Nice, and in 2014 I opened a spacious medical centre at 27 Boulevard Dubouchage in Nice, where I receive patients for ENT and aesthetic medicine appointments. There, I perform toxin and hyaluronic acid injections, mesotherapy and suspension thread treatments. This centre was also designed so that I could teach at the same time, by broadcasting over giant screens. We hold a number of workshops as well as our "Face Aesthetic Master-class". I operate in the Clinique Saint-Francois since my arrival in Nice…. and always with the same anesthetist!
Of all of your publications, which ones stand out the most?
My scientific articles have appeared in international publications (PubMed) from very early on in my career, but my books have defi nitely had the most impact. For the general public, our latest book: "Le visage sublimé, De chair et d'âme" (An enhanced face, body and soul) is a summary of my work and is based around three pillars: art, philosophy and medicine. I wrote it with a history of art professor, Ondine Roman, and a philosophy professor, Stéphanie Cannatella. The artistry involved in our work is closely linked with art, history and the perception of the emotions. I have also written: "Mon nouveau nez" (My new nose) and "La rhinoplastie, une Re-nez-ssance, De l'histoire de l'art à la chirurgie moderne" (Rhinoplasty, a renaissance: from art history to modern surgery). 
For professionals, with my Italian friend Alessio Redaelli, I wrote the world's first book about medical rhinoplasty, "Medical Rhinoplasty", followed by several others, including "Facial Ageing", "Anatomy and Volumizing Injections", etc. We are currently finishing off a collective book project for the SAMCEP, with Dr Henry Sabatier and Dr Philippe Kestemont. It is a real tome that we hope will become a reference in the field and will make waves in our industry.
"Launching a number of congresses"
I have always been heavily involved in organising and taking part in a number of congresses. With Doctors Patrick Trévidic and Jérôme Paris, We founded the "F@ce2Face" congress, which enjoyed huge success in Cannes for many years. After F@ce2Face stopped, I joined the scientific board for the Monaco World Congress (AMWC). As I come from Corsica, I manage "ORL Corsica" and "Esthe-tique Corsica" with my colleagues Doctors Patrick Porta, Henry Canale and Bertrand Joly. I also co-manage the "Face Aesthetic Masterclass (FAM)", and since this year, I have been in charge of scientific direction for the "Medical Aesthetic Awards".
"Heavily involved in training"
Hands-on practitioner training is an integral part of the congresses that I organise, but it is also included in university diplomas, particularly with Dr Jacques Lagier for oculoplastic surgery in Nice and Dr Philippe Kestemont for the university degrees in facial injections.
"My work's priorities"
I am particularly involved in the field of surgical and medical rhinoplasty and facial injections. With regard to fillers (hyaluronic acid), I developed innovative approaches such as the "Less is More" concept and "medical strobing".I also worked a lot on the anatomy, the difficult areas of injection of the face with hyaluronic acid and botulinium toxin (especially the lower face).
"My key interventions"
I take care of the "envelope and content of the head and neck" with, of course, plenty of aesthetic medicine, but the vast majority of my work is functional and surgical. I perform operations on the nose: rhinoplasties, perhaps coupled with a functional operation on the patient's breathing, on the sinuses. I carry out lifts, blepharoplasties, otoplasties, liposuction, as well as functional surgery on the nose, ears, neck, thyroid and skin cancer.
"Medical rhinoplasty, a true revolution"
In 2008 we published our first international articles about this subject. This completely changed how we approach rhinoplasty. At the beginning, my peers were up in arms and were afraid of not being able to operate any more, as medical rhino-plasty was able to change and alter the nose so easily. Today, we often recommend this solution. It allows us to correct the majority of anomalies that might occur after surgery, a real "airbag" compared with surgical rhinoplasty. This way, we can fine-tune any surgery with an injection. But medical rhinoplasty can, for some indications, replace surgery. Due to the large number of injections carried out into the nose, we have seen a few side effects: mainly a risk of ischemia in this area and vascular pain in the nasal pyramid. These effects prove that we must use the right products, the right technique and must work carefully, especially when using cannulas, to avoid this type of complication.
"Covid, a year on"
We have gone through a number of phases: from knowing everything to knowing nothing, from worrying about nothing to worrying about everything, from total incomprehension to coping better with this infection! Nevertheless, some worries have arisen, such as the fear of wounds caused by Covid and injections, and possible inflammation caused by the association of Covid and injections. To discuss these consequences, Dr Martine Baspeyras suggested we meet up in France to identify the risks, which include the appearance of granulomas. We quickly saw that there was no cause for concern. Both hyaluronic acid and botulinum toxin have proven to be completely safe.
"A new world"
A new world, that of digital communication, has been established. We have realised that we do not necessarily all have to be in the same room in order to teach: a number of interventions have been carried out on platforms such as Zoom, both for work meetings and patient consultations. Paradoxically, with Zoom meetings, the face has become a central element when we are sitting in front of our computer screens! Injections have been in high demand, in two key areas: the eye area and the lips. The "Zoom face" trend has followed on from selfies. 
What about Covid prevention?
I have always prescribed nutritional supplements after surgery, and it is useful to add some supplements that target infections: vitamin D, zinc, quercetin, etc.
However, the government has not yet recommended their prescription due to a lack of convincing results. And if you follow the debates about azithromycin, hydroxychloroquine or ivermectin, we see that the government does not recommend prescribing them, even though many doctors offer them. At one time, the relationship between doctors and the government was rather strained, with a feeling that doctors no longer had the freedom to care for their patients.
Over the last few months, doctors have had more freedom in terms of indications for authorised drugs, or non-authorised drugs with regard to unapproved hydroxychloroquine. The same goes for azithromycin, an anti-viral antibiotic that was banned at the start of the pandemic, or cortisone which has gone from being a banned molecule to a recommended molecule. The principle of prevention explains the government's wavering: theirs is not an easy task. Concerning the Pro/Anti Professor Didier Raoult controversy, personally I admire the man and am impressed by the number of scientific articles he has published, and what he has built at Marseille university hospital. When I was a junior doctor at La Timone hospital, I did a masters in bacteriology with him. He was already well-respected back then. I truly admire him because he resists any pressure and economic interest. So, does hydroxy-chloroquine work? In light of the recent studies, it seems that it does, but I am not an infectiology specialist so I cannot really comment on its efficacy. The last pages of the "Covid-19 book" have not yet been written, so only time will tell…
« A key event for aesthetic medicine? »
One of the important turning points in my life as a surgeon was the medical rhinoplasty and the creation of the SAMCEP with 3 surgeon colleagues. It is one of the most open-minded societies because it allows dermatologists, doctors and surgeons to come together.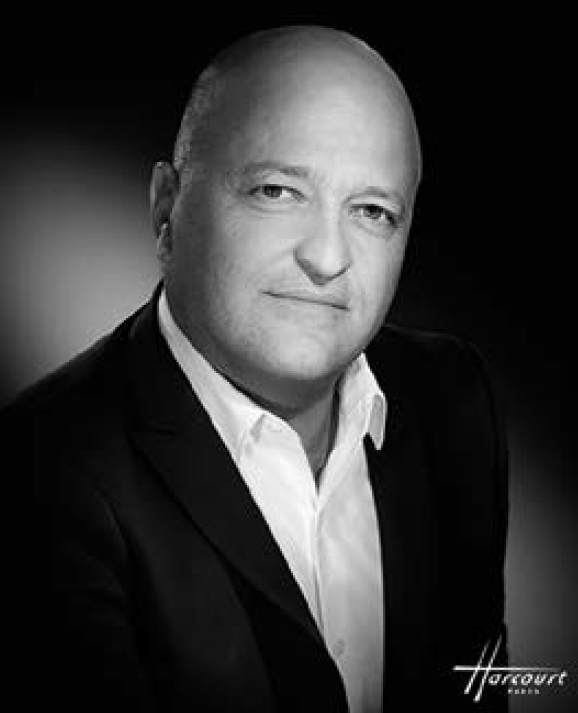 WHERE TO FIND HIM?
L'Artistique 27 Boulevard Dubouchage, 06000 NiceTEL : +33 (0)4 93 91 91 92