VIVACY laboratories have added to their STYLAGE range of latest-generation dermal fillers, offering a brand new approach to dermocosmetics thanks to the exclusive VIVASOME complex, which can be found in all of the products in the new STYLAGE SKIN PRO range.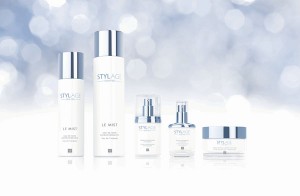 This complex is based on the principle of TRANSPORTING ACTIVE INGREDIENTS:
Tiny microbeads (called LIPOSOMES) act as carriers for the active ingredients encapsulated inside. These liposomes penetrate the cutaneous barrier and release the active ingredients into the targeted cells.
WHAT ARE THESE ACTIVE INGREDIENTS?
SORBITOL: In addition to providing hydration, this powerful antioxidant fights the free radicals that cause skin aging.
GLYCOMOLECULES: These activate collagen and elastin synthesis in the dermal layer to encourage cell renewal.
TREIGNAC NATURAL MINERAL WATER, which is rich in silica, soothes and hydrates the skin. The new STYLAGE SKIN PRO range is made up of three products (in addition to the MIST, shown in issue 19 of Anti-Age Magazine): SOOTHING REPAIRING CREAM, CELL REGENERATING SERUM, ANTI-AGING RESTRUCTURING CREAM.
The REPAIRING CREAM is designed for skin that is inflamed following a procedure (post-peel, laser or injection) but it can also be used to soothe everyday irritations (after exposure to the sun or cold, epilation or shaving).
The REGENERATING SERUM is enriched with omega 9 ceramide, which optimises skin regeneration and has a beneficial effect on the face's radiance, tone and wrinkles thanks to its hydrating and firming properties. It can be applied morning and night and is recommended for use alongside the third product in the range.
The ANTI-AGING RESTRUCTURING CREAM completes the SKI PRO range. Thanks to its powerful active ingredients (Rosemarinyl, Polydatin), it helps the skin to fight free radicals and boosts its hyaluronic acid levels. It also contains Uvaxine, which triggers the skin's natural defences against the sun's harmful rays.
All of these products also contain hyaluronic acid and a derivative of vitamin C. This new range is dermatologically tested and is suitable for all skin types, including sensitive skin.