Dr Francesca de Angelis 
Collagen inductors are gaining in popularity and we are discovering the many different ways in which they can be used. From treatment of acne skin in young people to mature persons looking for efficient skin-lifting regimens, PLLA biostimulators answer a wide variety of needs. 
Why it's important to stimulate the skin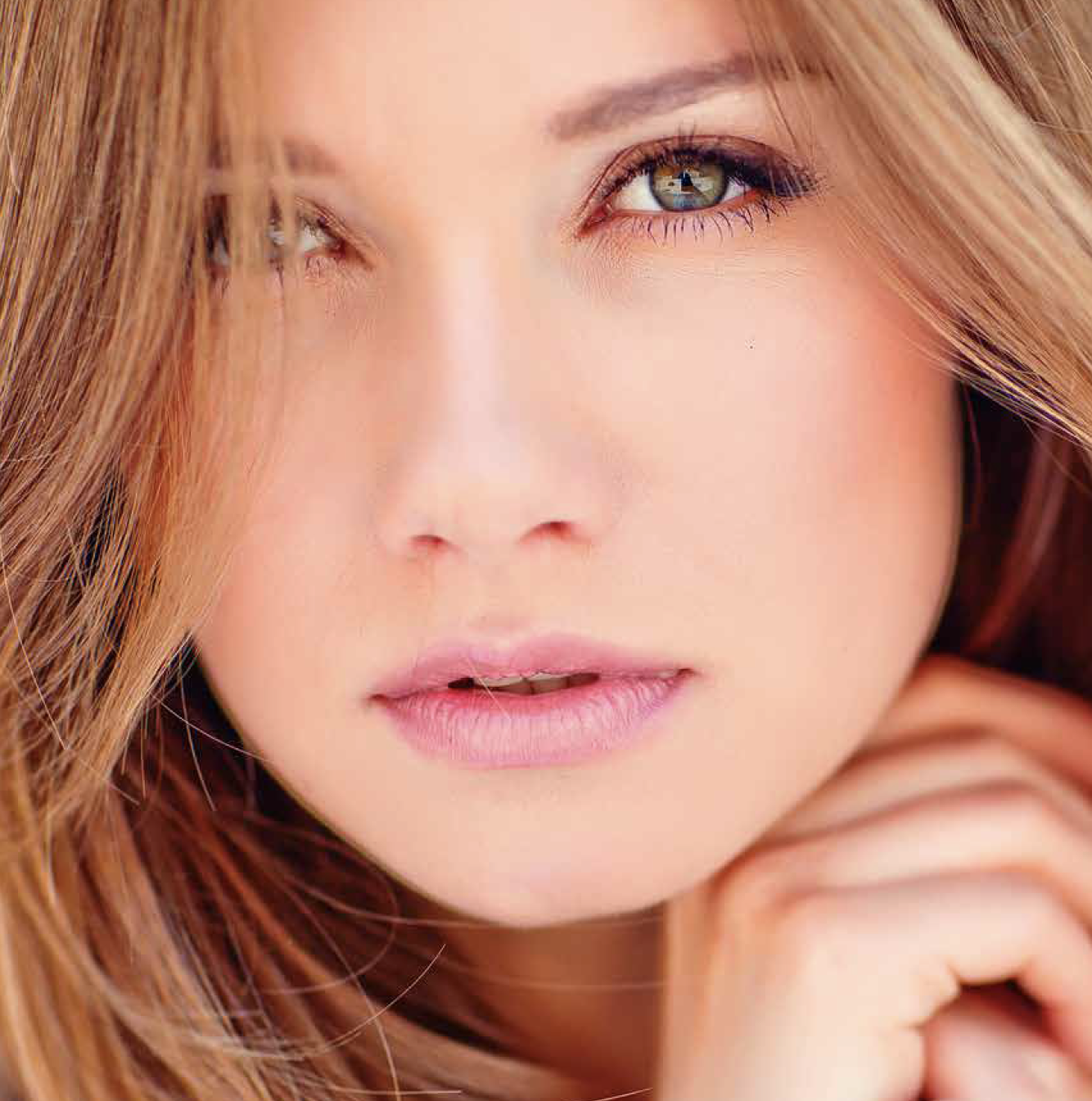 One of the main problems in ageing skin is that the skin loses its thickness. The main idea is to stimulate it to produce its own new collagen and elastin in order to rejuvenate a mature skin. In younger patients, the objective is to maintain over the long term the original skin density and skin tone. Biostimulators are capable of restoring the microns that the skin has lost, and my personal preference goes to Lanluma (Sinclair laboratories) for the very positive results that I have obtained in a wide variety of patients. 
A diversity in patient profiles and skin problems
I have been using Lanluma on patients as young as 18 years old for acne scar treatment. The goal is to help the skin become healthier, especially with patients that have been on medication to treat the acne, which has an impact on skin quality. These patients are not as responsive to resurfacing laser treatments, but I have noticed that if they do one PLLA treatment 30 days before their laser session, the results are visibly better. 
I've seen a surge of young patients starting in their late twenties who want to prevent skin ageing by doing lasers so I first treat them with 1 session of Lanluma followed 1 month later by 1 laser session. This is done once a year to maintain skin tone, elasticity and thickness without modifying their facial features. Younger women are very focused on prevention because they want to remain the same for as long as possible instead of waiting for signs of aging to have procedures. It's a whole new approach and the younger generations have fully understood it. My main group for ageing prevention is the 30 to 35 group where I do 2 sessions and a maintenance treatment after 6 months. However, 60% of the patients that come for Lanluma are looking for rejuvenating treatments, and they're between 45 and 65 years old. Depending on their age and their skin quality, the amount of sessions needed to restore the skin is not the same. Generally speaking, to go back to the collagen production of when they were 25 years old, the 45 age group needs 3 sessions 2 months apart. The 50ish group needs 4, and for those over 55, 5 sessions are needed for the 1st time, with 2 maintenance visits at 6 months. The more mature patients usually ask me to treat their neck and décolleté, which I do after the third session on their face. They are so satisfied with the results that they are motivated to do it, as well as the hands in the 50 + age group. On hands I use a small amount of free HA for hydration and mix it with the PLLA, over the course of 3 sessions 2 months apart.
Skin tone is really important in restoring a youthful appearance and after 2 or 3 treatments, the skin drapes tightly on the muscles. Some women's faces even look slimmer because their skin is no longer sagging, and fine lines and wrinkles disappear. For skinny patients, I also inject it with a low dilution in hollowed temples, a flattened chin and gaunt cheeks in order to restore the lost volumes.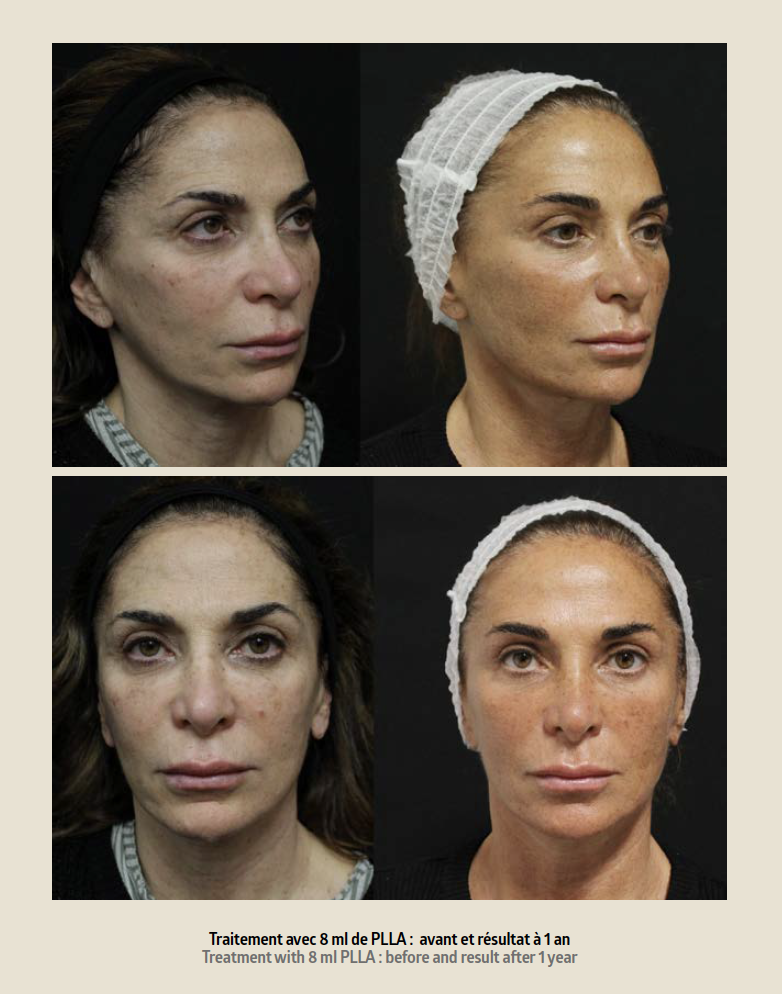 Technically speaking 
I always treat with a cannula because the idea is to use the exact amount of product and to spread it evenly. That's why the concentration of the product matters. In younger people, ¼ of a vial per session and in more mature patients ½ a vial is sufficient. You need a high dilution with saline solution when doing skin rejuvenation and biostimulation. 
A vigorous massage is absolutely necessary after the injection, and I always ask my patients to massage their face energetically every morning and evening for 5 minutes during 5 weeks. This helps to stimulate the production of more collagen, improves skin tone and gives a glow effect.
Maintaining a youthful appearance
Viewed from the angle of prevention, not only do we see natural and beautiful results, but also when used regularly, mature women who do HA fillers need smaller quantities and the results stay stable for a year because the HA is not absorbed by the skin to meet its hydration needs. I have been using PLLA for 15 years and Lanluma for 4 years and I really like working with it for the great results that it gives and for the high patient satisfaction.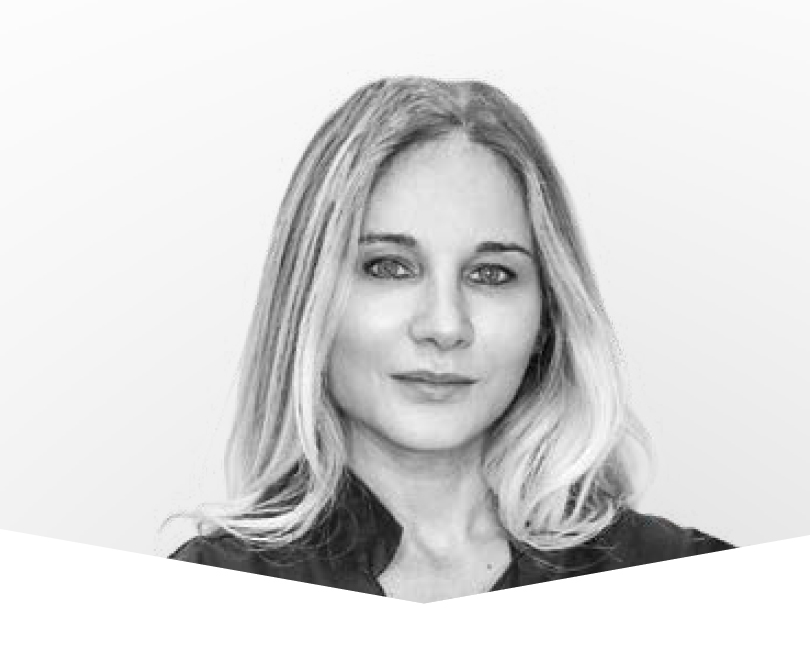 Dr Francesca de Angelis: Plastic surgeon Graduated in Plastic Surgery from the Federico Secundo Medical School, Naples, Italy. Former intern at the Naples Hospital and the University of Sophia Antipolis
More informations: dea-center