By Dr Claire Bianchin
OSCIENCE are reinventing cosmetology by integrating the ©first cellular reconstruction technology born from medical research that targets one of the major causes of aging. 
A global approach to prevention and regeneration is the new component of modern aesthetic medicine. It involves combining aesthetic procedures with ground-breaking topical technology, CXOS™, using the body's natural physiological resources to regenerate the skin and slow down skin aging.
Cell senescence, one of the major causes of aging
Our cells are part of a wonderfully orchestrated, interconnected network and are capable of reacting intuitively to internal and external variations, so we could say that our tissues are naturally "intelligent". This ©intuitive tissue intelligence requires a constant balance to be maintained within the cells, as they depend on their micro-environment. However, in the face of extreme condi-tions, such as grafts, or repeated stress (exposome), the cellular micro-envi-ronment and system are altered, the physiological balance of the cells is disrupted, and the cells enter into a kind of non-proliferative "dormant" phase during which their function is altered: this is cellular senescence.
A conclusive medical discovery led to OSCIENCE's formulations
Initially, the aim was to improve the quality and efficacy of the organic and cultural environments in order to optimise the conservation and repair of corneal tissue destined for transplantation. We needed to find an alternative to using human- or plant-derived products, which are not very effective or safe. After several years of medical research, a ground-breaking process allowed us to signifi cantly increase the survival rate of corneal cells thanks to an innovative action: it involved "rejuvenating" (reanimating) the senescent cells whose activity and energy levels were dropping because they were in a state of chronic infl ammation. Since the cornea and the skin are very similar tissues, we transferred this new medical technology into the fi eld of cosmetology by developing an innovative active complex, CXOS™, which is present inside the three formulations currently available from OSCIENCE laboratory.
OSCIENCE for ©intuitive tissue intelligence
Our priority is to repair the defective cellular system before rebooting its activity. The patented CXOS™ technology targets the regulation of synergetic osmosis by acting upon the micro-environment, electrolytic balance, hydric potential and the cells' energy system, all conditions that are essential to cell survival and reconstruction. This innovative "inside out" approach allows us to improve the aesthetic and functional effects of the aging process by treating one of the major causes of aging, not just its symptoms. This has many benefi ts on the skin, which have been proven in several clinical studies that show the efficacy of the products at different levels: wrinkles, dull complexion, skin elasticity, skin quality, condition and appearance…and also the density and length of the eyelashes.
A global approach to prevention and regeneration in modern aesthetic medicine
Experts in cell survival, the OSCIENCE laboratory gives professionals access to a ground-breaking topical technology that is part of a global approach to preventative and regenerative anti-aging medicine, to optimise and complement their clinical procedures. "Since cell regeneration is at the heart of the work on skin carried out by dermatologists, the technology from OSCIENCE laboratory and Dr Claire Bianchin is a major advance for science and dermatology. The range of OSCIENCE products contain a real innovation that has become indispensable in our clinical treatment protocols." Dr Abdallah Khemis, Dermatologist and Venerologist. Member of the European and American Academies of Dermatology and Venerology. Expert in therapeutic R&D in Nice.
An innovation that will revolutionise tomorrow's market
Winner of the French I-Lab award for innovation, presented by the French Ministry of Research and Innovation, the OSCIENCE laboratory was selected to be part of the Innovation Tank at the 2022 IMCAS World Congress, which is reserved for the most promising innovations that are set to revolutionise the market of tomorrow! "Oscience is the fruit of years of research, it is the factual observation of our environmental symbiosis. Oscience is more than an idea or a concept. It is a fully-developed, pioneering reflection, which makes sense both today and for the future…" Dr Hugues Cartier, Dermatologist. Vice-president of the French Society of Aesthetic Medicine (SFME) and scientific coordinator of the IMCAS.
"An innovation in innovation": a unique "energy combination" concept
Like an invisible veil placed on the skin, the OSCIENCE range has unique characteristics that can ©transform the skin into an "on-board" system that is ready to resonate; the PROMISE of great developments! Clinical trials are currently being carried out in collaboration with several specialist dermatologists, particularly in the fi eld of photobiomodulation. "OSCIENCE products tie in with a new dynamic in cosmetics. Their application on the skin boosts the energy of and recharges the cells, whose main vehicle is water. This vibrating 'regulation' opens the gateway to a synergy with other energy sources. By creating new protocols adapted to this concept, the OSCIENCE range is also looking to a future where effi cacy is optimised. The first results encourage us to continue in this vein…" Dr Michèle Pelletier, Dermatologist, expert in photo-biomodulation. President of the LED Academy.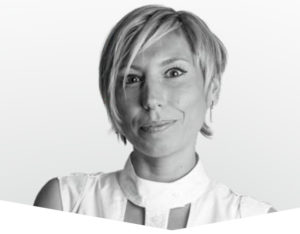 Dr Claire Bianchin: PhD in Molecular and Cellular Biology, University Claude Bernard Lyon I. Dr Claire Bianchin transferred a new medical technology for cell survival into cosmetology. Winner of several awards for innovation, she founded OSCIENCE, which is dedicated to skin regeneration and was selected for the Innovation Tank at the 2022 IMCAS World Congress.
More informations: oscience.fr