Dr Arnaud Lambert 
Hyaluronic acid has revolutionised the work we do to beautify, prevent aging or restore our patients' bodies and faces. Profilho®, a hyaluronic acid with an innovative rheology, is the gateway to a new skin biorevitalisation approach for the face and body. 
Native, endogenous hyaluronic acid has a high molecular weight and is made up of long chains that make it very mobile. It maintains the skin's architecture and hydration, while being involved in many of the skin's stimulating metabolisms. However, it breaks down quickly in the dermis. Generally, to compensate for this short half-life, injectable hyaluronic acids are chemically cross-linked, which has sparked a great many debates. Profilho®, on the other hand, is born from NAHYCO® technology, a thermal process that creates natural hydrogen bonds between hyaluronic acids of high and low molecular weights. Its chemical structure is therefore similar to endogenous hyaluronic acid while resisting enzymatic breakdown, which makes it last almost as long as cross-linked injectables.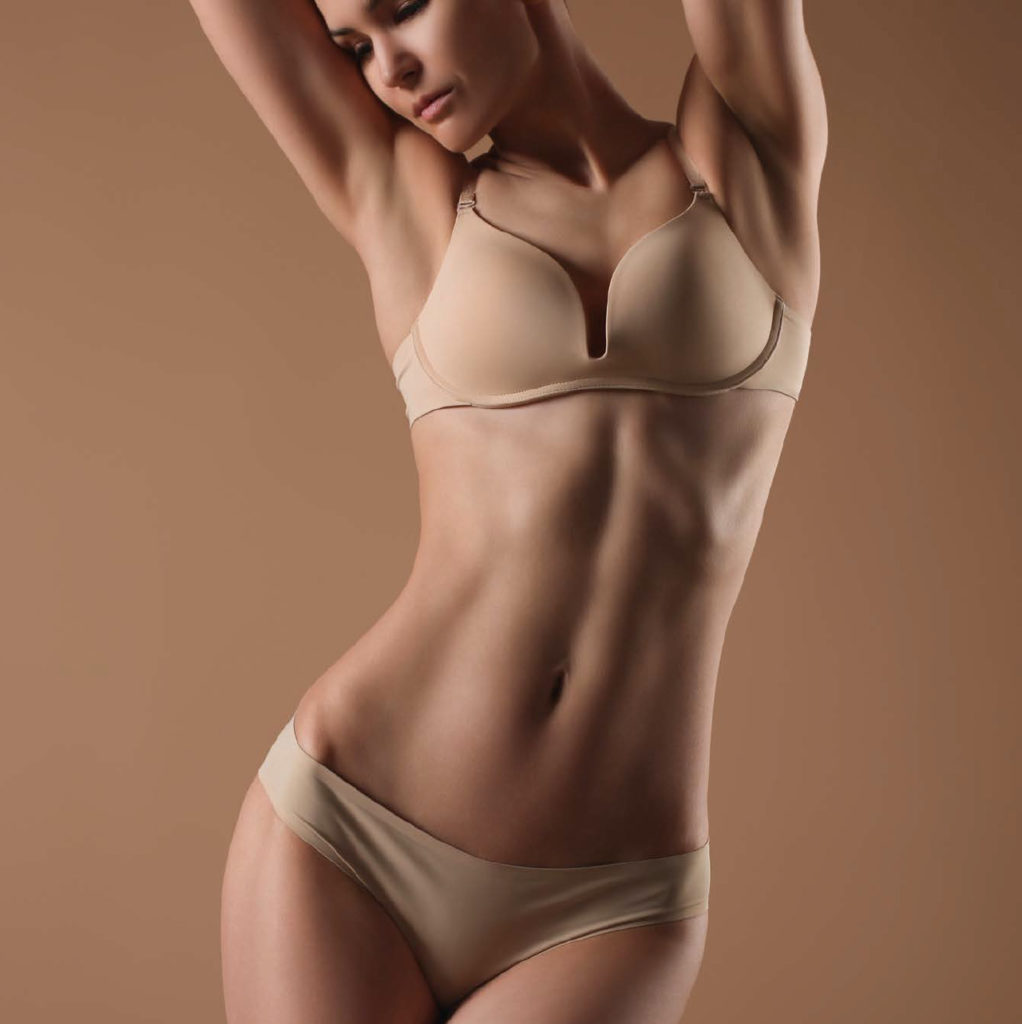 Thanks to the fluidity offered by this preparation, Profilho® benefits from a 32mg/ml concentration, which is higher than the standard products. Many publications corroborate the effects Profilho® has on the tissues. A rheology study showed that its hygroscopic ability was higher than standard skin quality boosters (1). A clinical study that is currently being submitted by Sparavigna shows a significant increase in skin hydration on the arms and abdomen from the first treatment, which persists 4 months after injection. Profilho® also has a cohesiveness and elasticity that has never been seen before in a non-cross-linked HA (1) while staying fluid, which allows it to spread and integrate into the dermis in a few hours. An in vitro study showed a significant boost to the stimulation of the fibroblasts for elastin expression (x12) and type 1 collagen expression (x7) in comparison with hyaluronic acids with a low or high molecular weight (2). In vivo, other echographic studies corroborate this induction effect (3).
Stellavato also showed an improvement to the viability markers of the adipocyte stem cells, which leads to subcu-taneous tissue preservation (4), as this tissue is subject to atrophy as aging progresses. The clinical studies prove these effects with more toned, redensified skin and a reduction in sagging from the first injection of Profilho® (5).
In the comprehensive treatment of skin aging, collagen induction is crucial. From age 20, the quantity of collagen reduces by 1 to 2% per year. The skin loses structure, elasticity and firmness.The main mechanisms that allow us to boost the fi broblasts'collagen production are thermal, mechanical and chemical. With Profilho® injections, the chemical effect of concentrated hyaluronic acid plays a stimulating role. A mechanical effect is also triggered by the cohesivity and elasticity of Profilho®, which has a mechanical transduction effect on the fibroblasts. A thermal effect can be added by using energy-based devices such as lasers. The photo-thermal effect depends on the temperature reached: hyperthermia, coagulation, carbonisation and volatilisation, which must be adapted to the clinical results desired. Recently, Profi lho® Body has been put on the market to treat areas where the skin crumples and sags due to aging. There are very few options for these indications, and surgery automatically leads to some scarring.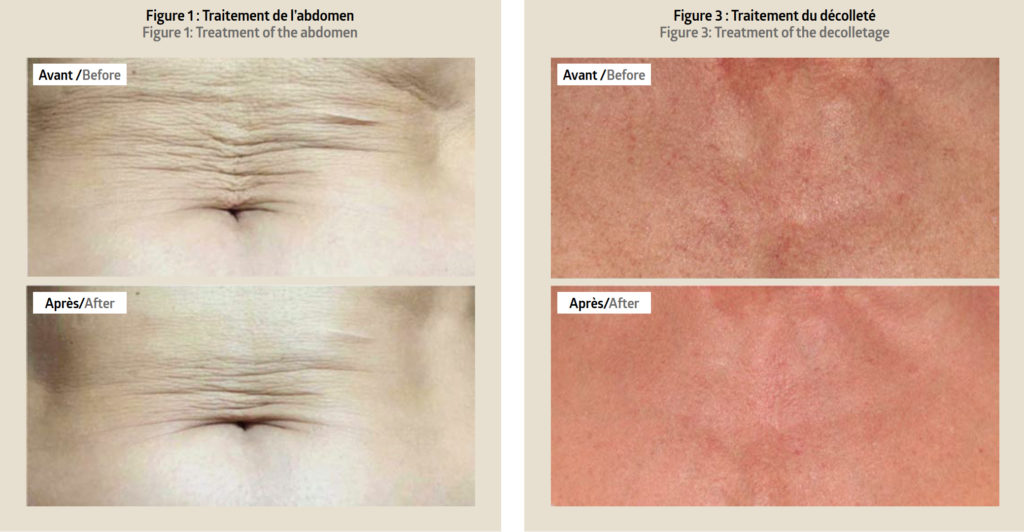 Combining lasers with Profilho® Body allows us to achieve impressive results on suitable indications, i.e. when there is no fatty ptosis or major sagging. The laser treatment is carried out before the Profilho® Body is injected so as not to affect its rheology. The two treatments are carried out in the same session. Treating the abdomen (Fig. 1) requires two sessions with BroadBand Light Skintyte, spaced a month apart, with infrared filters that produce a thermal effect combined with Profilho® Body. In the case of Figure 2, an endocutaneous laser with a 1470nm wavelength allowed us to remodel the hypodermis on the inside arms and stimulate collagen synthesis in two sessions combined with Profilho®. Finally, in the case of areas suffering from heliodermia, energy sources are also used to tackle pigmentation and vascular issues. On the decolletage (Fig. 3), two sessions with the BBL Hero allowed us to treat these aspects, while Profilho® Body improved the skin's hydration and texture.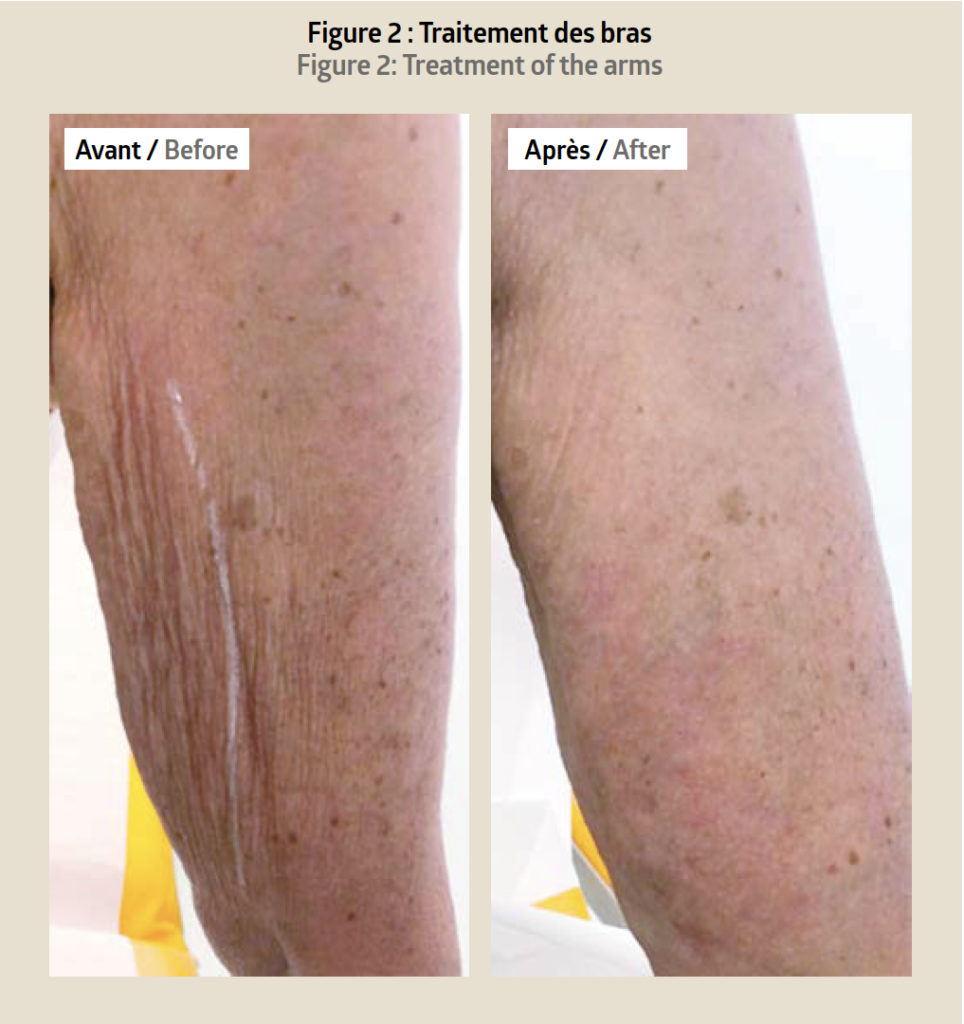 Références :
1- Kleine-Börger, L., Kalies, A., Meyer, R. and Kerscher, M., 2021. Physicochemical Properties of Injectable Hyaluronic Acid: Skin Quality Boosters. Macromolecular Materials and Engineering, 306(8), p.2100134.
2. Stellavato A, Corsuto L, D'Agostino A, La Gatta A, Diana P, Bernini P, De Rosa M, Schiraldi C. Hyaluronan Hybrid Cooperative Complexes as a Novel Frontier for Cellular Bioprocesses Re-Activation. PLoS One 2016;11(10):e0163510
3.Laurino C, Palmieri B, Coacci A. Effi acy, Safety, and Tolerance of a New Injection Technique for High- and Low- Molecular-Weight Hyaluronic Acid Hybrid Complexes. Eplasty. 2015; 15:e46.
4.Stellavato A, La Noce M, Corsuto L, Pirozzi AVA, De Rosa M, Papaccio G, Schiraldi C, Tirino V. Hybrid Complexes of High and Low Molecular Weight Hyaluronans Highly Enhance HASCs Differentiation: Implication for Facial Bioremodelling. Cell Physiol Biochem. 2017;44(3):1078-1092.
5.Cassuto D, Delledonne M, Zaccaria G, Illiano I, Giori AM, Bellia G. Safety Assessment of High- and Low-Molecular-Weight Hyaluronans (Profhilo®) as Derived from Worldwide Postmarketing Data. Biomed Res Int. 2020 Jun 20;2020:8159047.from worldwide postmarketing data"Biomed Res Int. 2020 Jun 20
Dr Arnaud Lambert: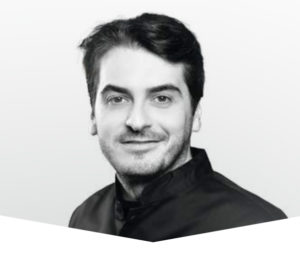 Dr Arnaud Lambert is a self-employed aesthetics doctor in Paris. He teaches at Paris-Est university and is coordinator of the DUAPME (university degree in Physical Agents in Aesthetic Medicine). A speaker at many medical conferences in France and abroad, he is also a trainer and consultant expert for several laboratories.
More informations: dr.arnaudlambert