HAIRSTETICS™, a new innovation for hair restoration as an alternative to surgery. 
Dr Monique Blanchard 
Androgenetic alopecia affects 1 in 5 women. The scientific work of two professors, in dermatology and cardiology, has led to a true technological revolution and the development of HAIRSTETICS™, a completely innovative method for hair restoration.
These next-generation implants open up an infinite range of possibilities for practitioners and bring hope to the millions of women suffering from androgenetic alopecia, as it fi nally offers a solution to the 80% of women who are not eligible for hair transplants.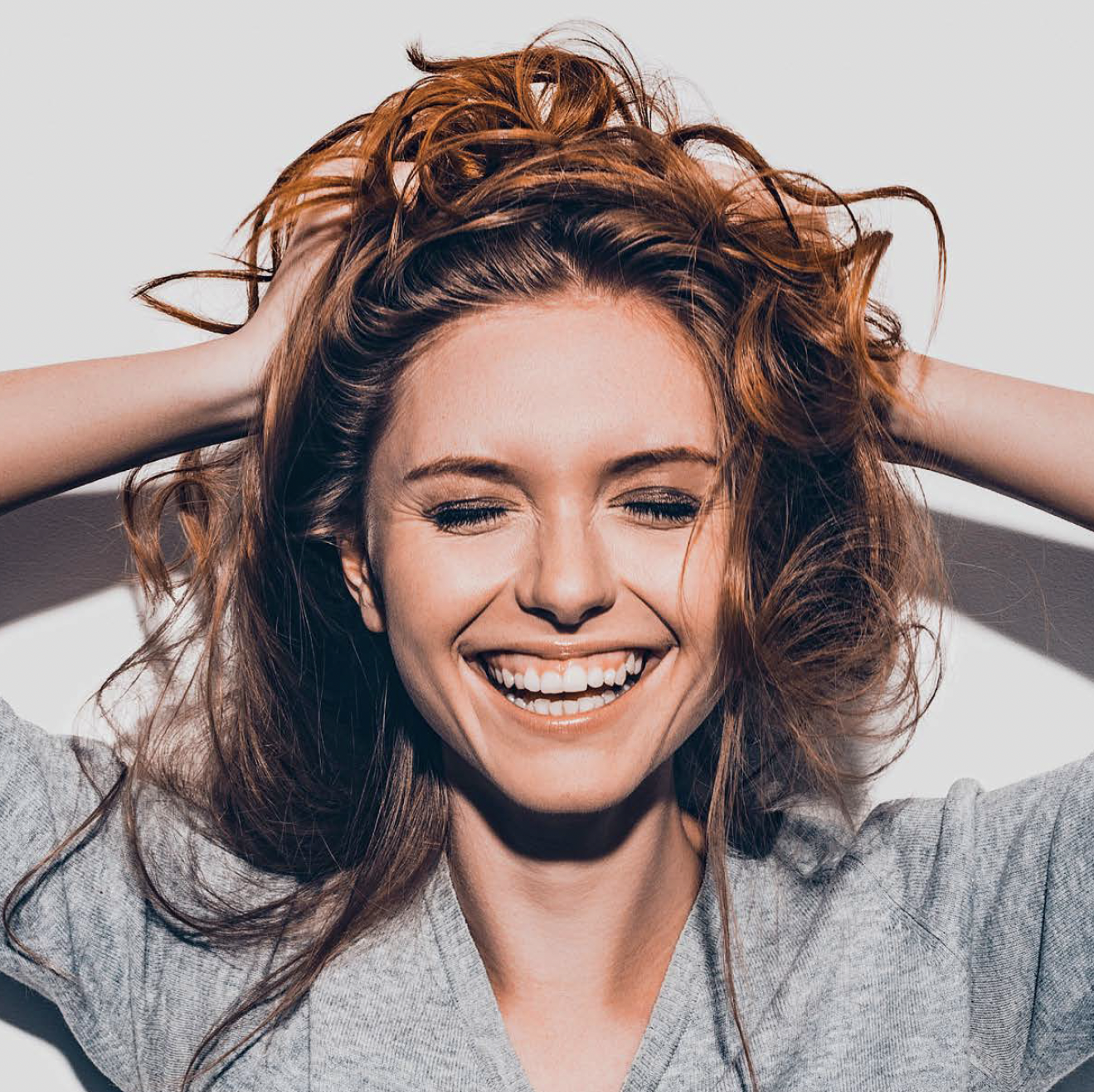 HAIRSTETICS™, a real indication
Androgenetic alopecia is the most common cause of hair loss in women and worsens with age. It is a non-scarring alopecia characterised by a progressive loss of density affecting mainly the crown and mid-frontal area of the scalp with a typical widening of the central part. It mainly affects women starting from menopause but may have started as early as puberty. The chronic nature of this type of baldness leaves little hope for regaining a denser head of hair. While it is a benign medical condition, its psychological impact is significant on women's quality of life, loss of confidence and self-esteem. Hairstetics™ finally offers women a solution that does not depend on the donor area, is safe and painless as the intervention takes place in two minimally invasive phases (pre-implantation test, then complete implantation), discreet as it does not require social eviction, and fast, with immediate satisfaction and results.
Exclusivity of the Hairstetics™ Hair implant device: A patented and minimally invasive technology.
The technological innovation of this new generation of hair implants lies in an intelligent device of pre-filled sterile cartridges containing 12 synthetic hairs ranging from 18cm to 40cm (Figure 1).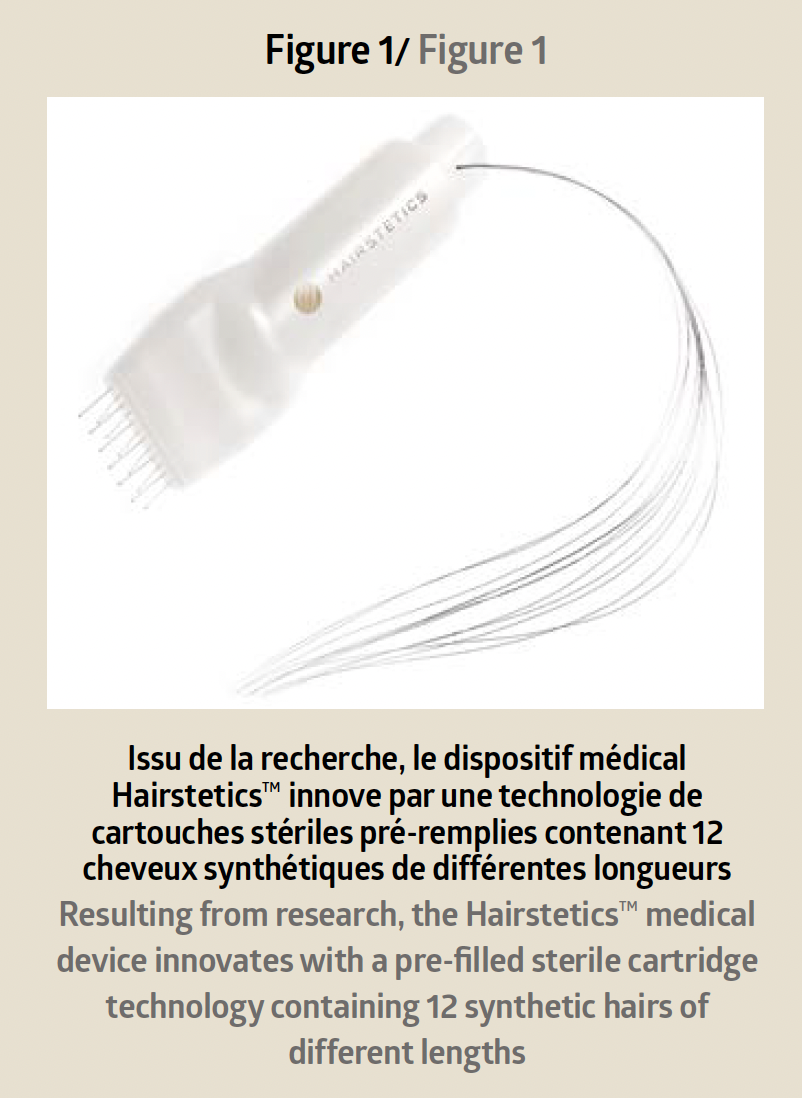 Each hair is already inserted into a very fine needle with a diameter of 300m. The device allows for the implantation of multiple hairs at once into the scalp and reduces the intervention time as well as the traumatic nature inherent in traditional grafts. The technical and mechanical specifi city of Hairstetics™ hair implants and their operating mode classify them as Class IIb single-use medical devices.
Advantages for practitioners Safety
• Sterile procedure: the device is designed to use single use cartridges.• Use of nitinol and nylon; two highly biocompatible materials commonly used in medical implants (e.g., cardiovascular devices and surgical sutures).• Minimises skin trauma due to a very small hole made by the cartridges needles (30G – the hair implants being fully contained in the needles), an anatomic-like hair implant design with a bulb, a shaft width of 100m and a 200m miniature anchor.
Efficiency • Simultaneous implantation of 12 hair implants.• Shorter procedure time, less than one hour.• Homogeneous and natural outcome. immediate results with real time adjustment possible.• Fixation force: the anchor with its unique design is self-expanding and provides an immediate, more secure fixation (2.5 x stronger than natural hair).
Advantages for patients • A significant reduction in pain during and after treatment.• A safe treatment and a faster return to everyday life. • Minimally invasive enables minimum skin trauma, minimum post treatment bleeding / swelling, no scarring. • An immediate aesthetics results and satisfaction: no need to wait 6 months for hair regrowth.• The treatment is reversible.• Convenient for women since only 15% of women are eligible for traditional hair transplantation. 
Hairstetics™ hair implants are available in several styles (straight or curly) and seven colours: from bleached blond to black to ensure hair implants blend with natural hair. (Figure 2).

Implantation protocol, simple and minimally invasive: Immediate results in 1 hour
Reserved for trained doctors, the procedure is performed in the medical office under sterile conditions and local anaesthetic. The implantation procedure takes place step by step (Figure 3).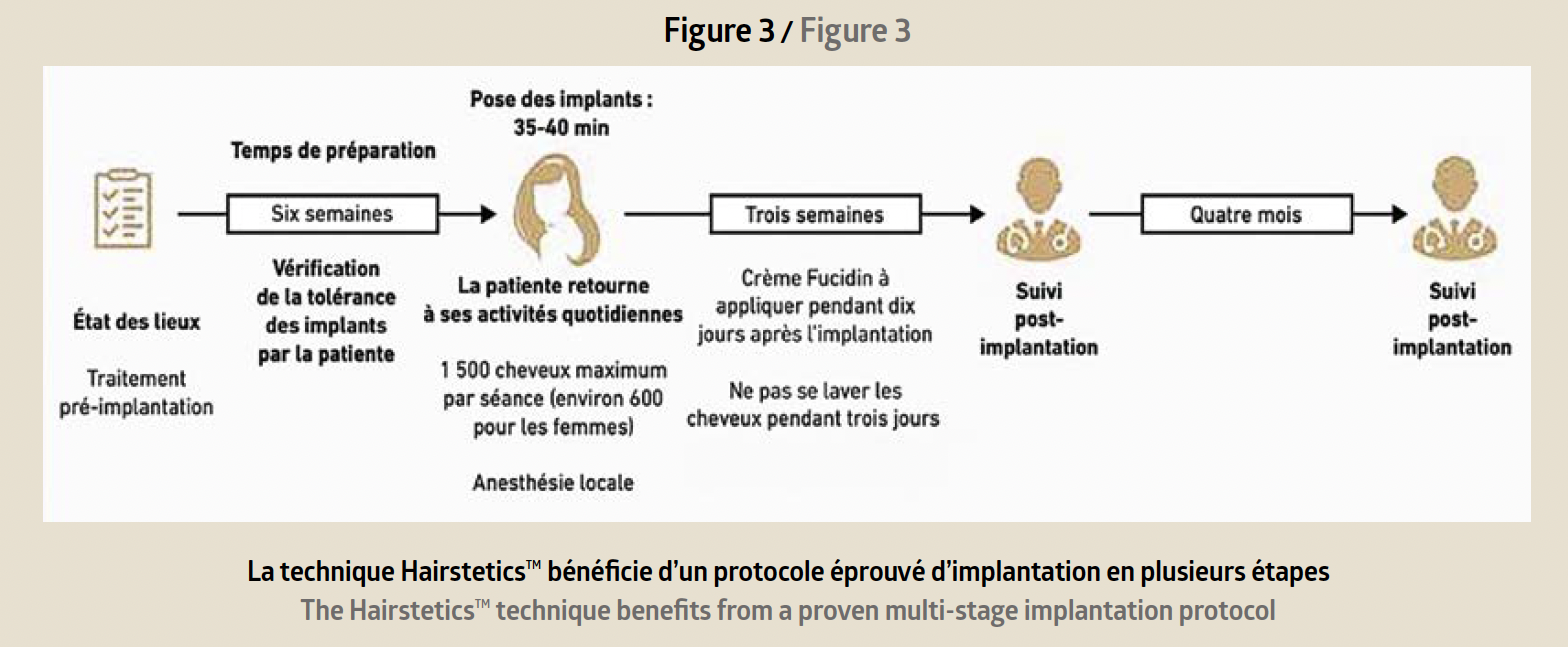 A first consultation is used to verify the patient's eli-gibility for the Hairstetics™ hair implant procedure, to provide a quote, and informed consent. After the legal waiting period, a pre-implantation test is carried out with a limited quantity of implants. Six weeks later, provided there is no allergic or inflammatory reaction to the test, the practitioner can proceed with an implantation ranging from 500 to 1500 implants depending on the patient's needs. The procedure takes less than an hour. The results are immediately visible after the procedure: the hair is dense, thicker, and the effect is natural (before/after photo Figure 4).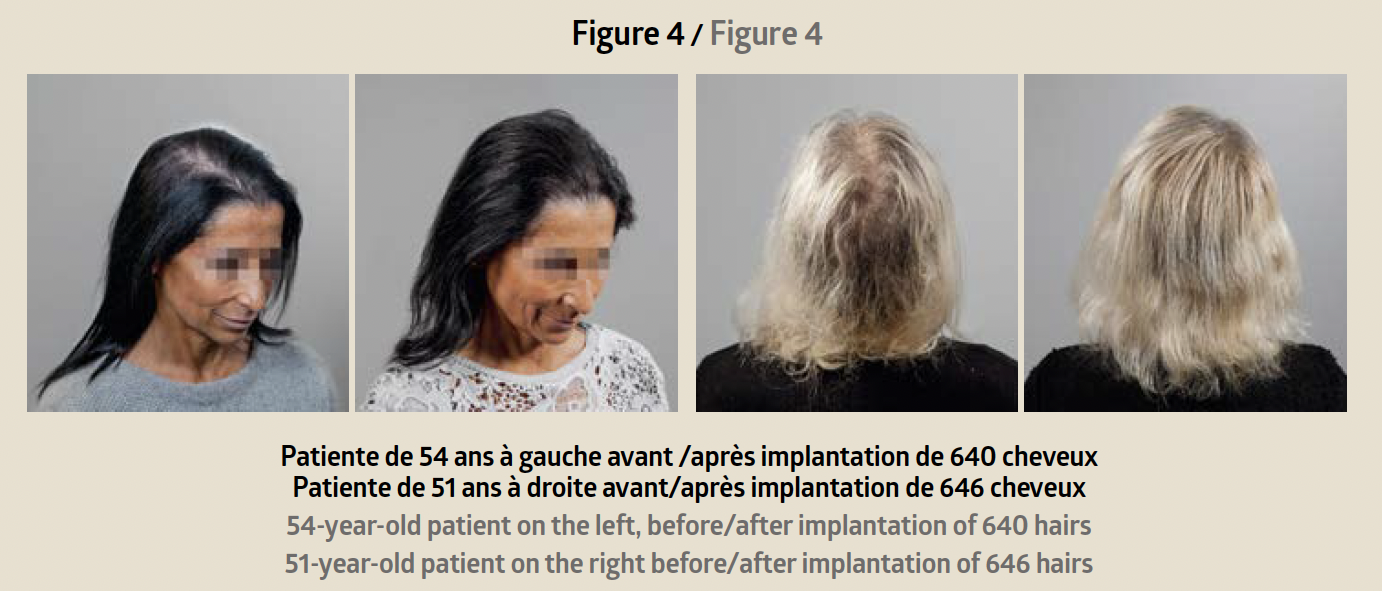 After the implantation
The doctor prescribes the application of Fucidin 2% cream for 10 days, as well as antibiotic coverage for 7 days. The patient can wash their hair 72 hours after the implantation but should avoid covering or applying pressure to the implantation areas for one month (hats, caps, helmets). Colouring should be avoided 3 weeks before and 3 weeks after the implantation. A post-operative follow-up consultation is necessary at 3 weeks and then at 4 months.Thanks to advances in science and years of R&D in medical device engineering, Hairstetics™ has a very solid clinical basis. Its patented technology and innovative device design allow for the simultaneous implantation of multiple hair implants, making the procedure much less traumatic, safer, and faster. This process represents a breakthrough in the treatment of female androge-nic alopecia and meets the needs of patients by quickly restoring hair density regardless of hair capital.
Hairstetics™ is already being practised in several countries, including Israel, New Zealand, Brazil, and France. The procedure received a CE marking in 2019 and was awarded the Innovation Prize at the AWARDS – IMCAS 2021.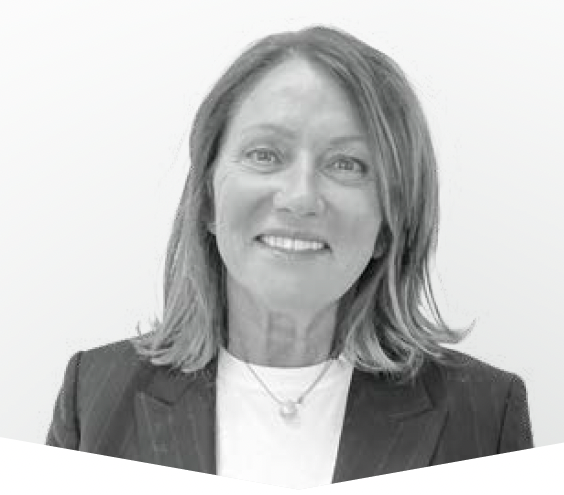 Dr Monique Blanchard: Diploma in aesthetic dermatology, dermatological and cosmetological lasers Former graduate of the Paris hospitals Member of the AFME group (Association française de médecine esthétique et anti âge) Practice in La Rochelle
More informations: moniqueblanchard.com