A sublime neck and an elegant oval
For a long time, the oval of the face, the neck and the décolletage have been somewhat neglected in aesthetic medicine. But thanks to a selection of new global approaches, which are becoming more commonly-practised by our experts, this neglect is becoming a thing of the past.
When used early enough in the aging process, hyaluronic acid and tensor threads can work miracles.
As a complement to these techniques, radiofrequency and ultrasounds can densify the dermis. A bit later on, one might want to consider a lift. But don't panic: the techniques have evolved and this procedure is now much less painful than before.
As for the jaw, few people actually consider it but a volumising product can redefine the contours of the jawline for guaranteed results with no downtime!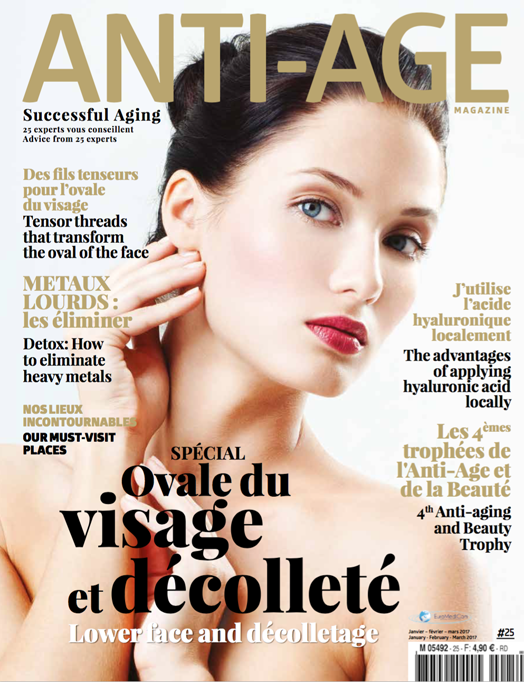 Summary:
OXY BEAUTY: A NEW, NATURAL ANTI-AGING SOLUTION
DETOX AND HEAVY METALS: HOW TO DO IT NATURALLY
REJUVENATION OF THE LOWER FACE AND DÉCOLLETAGE
WHEN IS THE BEST TIME FOR A LIFT?
LOSS OF DEFINITION IN THE JAWLINE
THE ADVANTAGES OF TENSOR THREADS FOR REJUVENATING THE OVAL OF THE FACE
RECOVER THE BEAUTY OF YOUR LOWER FACE THROUGH YOUR MOUTH AND SMILE
Our finalists for the 4th edition of the Anti-Aging and Beauty Trophy.
Medical spas and thermal baths
We hope you enjoy reading our magazine!
AAG Publishing
Now available on Apple Store and Google Store.
More than 100 experts can be consulted at:
http://www.anti-age-magazine.com
http://www.facebook.com/anti.age.magazine
Discover our versions Europe, Asia, Russia and Greek.
More informations: http://www.anti-age-magazine.com