A flawless complexion, faded marks
Is it down to photo-aging, pollution or oxidative stress? In part, no doubt, but there is no denying that our complexion is continuously exposed to attacks from our environment. Erasing pigmentation marks to make our complexion clearer and more radiant, making us look well and protecting us from the sun, especially during the summer months: this is the challenge tackled by our experts.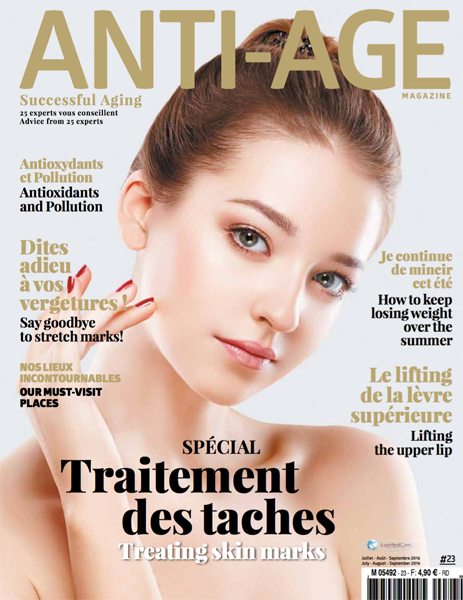 Pollution is a major concern
The negative effects of pollution are forever being measured, whether in our food, in our body or on our skin. The consequences are immediate: toxic substances, the presence of lead or mercury, hyperpigmentation. We can pay special attention to our diet in a bid to combat these effects, though the presence of pesticides can sometimes render this surveillance a little pointless. It is also a good idea to avoid ultraviolet rays and regularly monitor any marks such as lentigos or melasmas, which might seem benign but could be a precursor to more consequential problems.
Contents:
Tips on how to keep losing weight over the summer
Antioxidants and Pollution
GENITAL AESTHETICS
PIGMENTATION MARKS
TREATMENT OF PIGMENTATION MARKS AND MELASMA
STRETCH MARKS AND HOW TO TREAT THEM
SAY GOODBYE TO STRETCH MARKS!
LIFTING THE UPPER LIP
Our must-visit places
Our selection of injectable products
Medical spas and thermal baths
We hope you enjoy reading our magazine!
Thierry Piolatto, AAG Publishing
More than 100 experts can be consulted at: