By Dr Marie Thérèse Bousquet
We are a great many doctors, laboratories and patients to believe that the major aesthetic trends focus on prevention, that is, slowing down the effects of aging. 
The goal that we have set ourselves over the years is to optimise the quality of these treatments. One generation – the Millennials (Generation Y), aged between 15 and 35 – is questioning all of the treatments' constraints. This generation was born in the digital era. They demand independence, freedom to choose what they want, when they want it and how they want it. We have to pay careful attention to how the patients' demands are changing.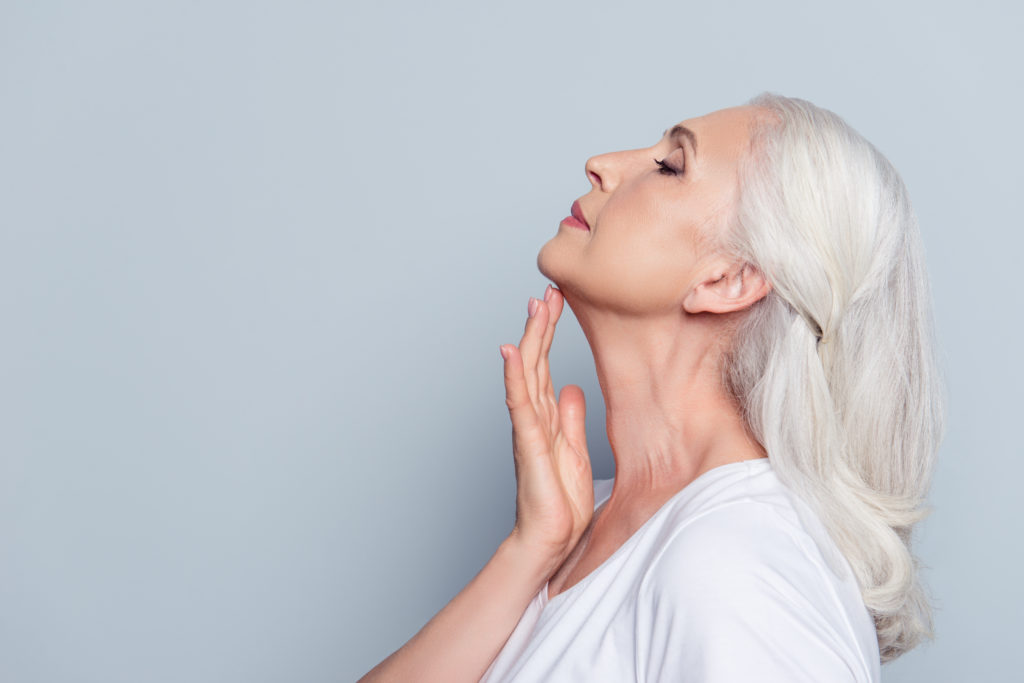 The criteria for natural beauty – static, dynamic and emotional – might seem outdated to these patients. The demand for noticeable, flashy results like their icons is no longer an exception, such as "so and so's nose", "so and so's eyebrows", or "so and so's lips"… We have to fight against the dysmorphia triggered by selfies, explain to patients the importance of natural-looking results, with no filter. We play an advisory role. Our expertise, our status can help us. My priority is to focus on the skin quality, on prevention, in order to enhance my younger patients' beauty capital and slow down the effects of aging a few decades later.
What are the current products?
This is not a new subject, and a number of laboratories are already tackling it. In the 90s, mesotherapy and superficial peels were offered to improve the complexion and skin texture. In the 2000s, hyaluronic acid really took off. Today it is inescapable and a number of studies highlight its role in improving hydration, firmness and maintaining the skin's viscoelastic properties.
Studies:
1- Study by Teosyal laboratory into redensity (non-cross-lined HA and nutrient cocktail). (Image 1)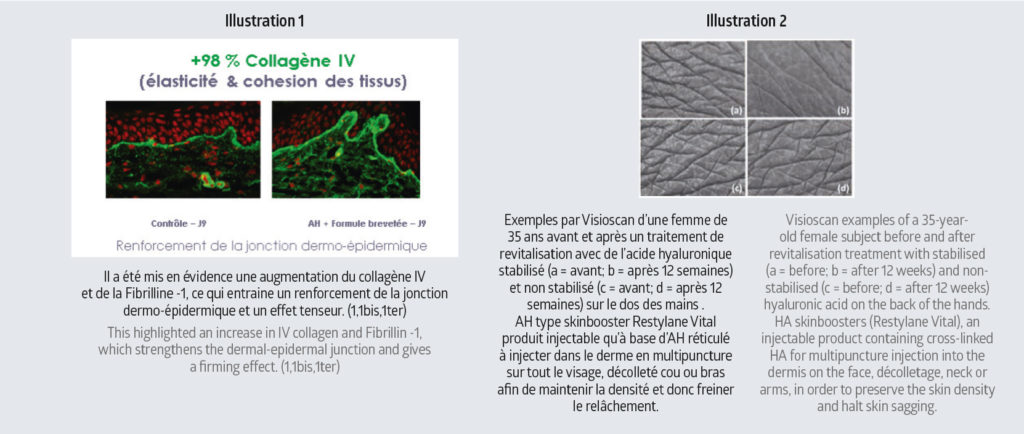 2- In the 2010s, to optimise the quality of these treatments, a new approach using Skinboosters (Nasha gel Restylane Vital /Restylane Vital light). Their aim: to make the results last longer. (Image 2) 
3 -Study by Vivacy laboratory. The family of HAs is extended with the addition of sorbitol (Vivacy Hydromax), which activates the mechanical stimulation of the fibroblasts and of collagen production . (Images 3 et 4)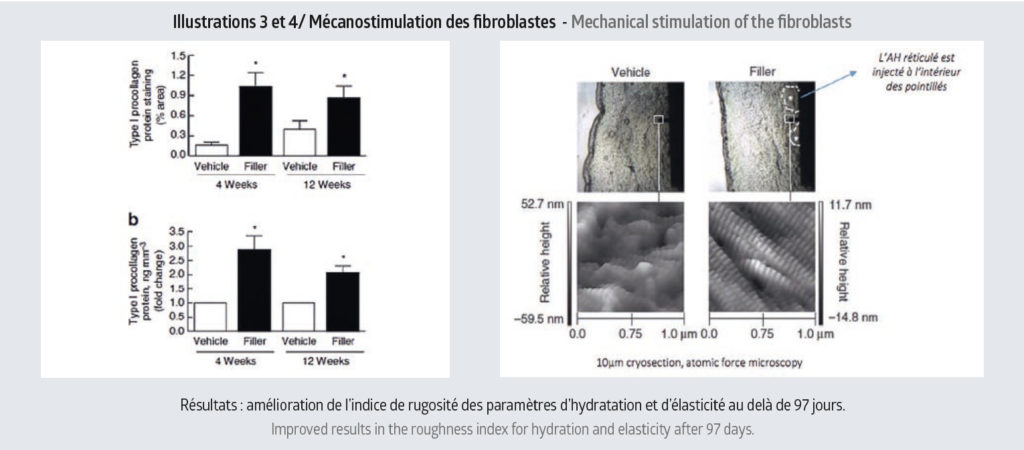 Profilho by IBSA Laboratories: the latest generation of hyaluronic acid. This is a stabilised hybrid of two hyaluronic acids of low and high molecular weight. (Image 5)

Positioning: What is interesting about this product is its action on the three cutaneous layers. (Image 6)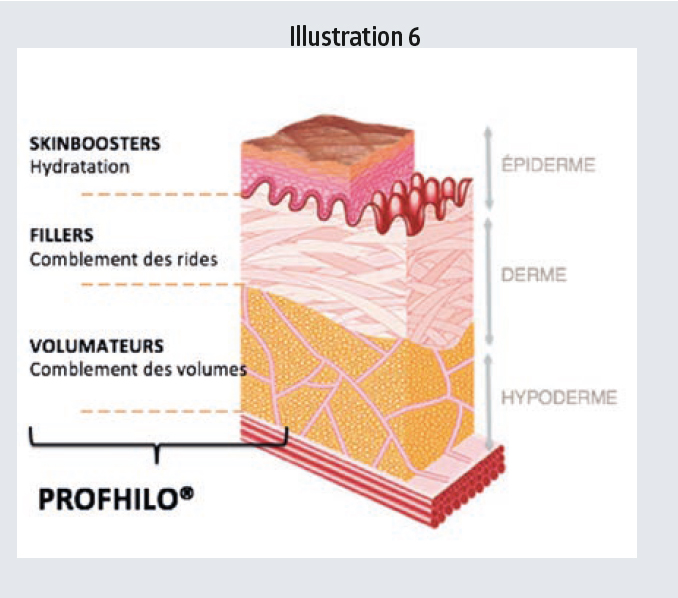 Histological studies:
1-Increases the expression of type I and III collagen fibres and fibroblast synthesis.
2-Increases type IV and VII collagen fibres and keratinocyte expression.
3-Increases the expression of elastin proteins and keratinocyte and fibroblast synthesis. By supporting the viability of the keratinocytes and fibroblasts, it promotes the reshaping of the extracellular matrix in terms of elasticity and support. (Image 7)
This study enabled us to mark untreated cells in positive red up to the 14th day. On the 14th day, the data shows that the cells have the typical morphology and characteristics of multi-vacuolar adipocytes. Better adipocyte viability leads to an improvement in the quality of the subcutaneous tissues.
Indications and protocols
To be used on a tired face with a loss of firmness, crumpled neck, creased arms, respecting the following protocol:
– Two sessions spaced 4 weeks apart
– Inject 0.2ml minimum of product per injection site, in a bolus or with a cannula into the hypodermis. Hyaluronic acid is undeniably a product that we know well and which allows us to safely improve the skin quality. We started to stimulate the dermal-epidermal junction using mesotherapy products then the dermis using Skinboosters. By stimulating the cells in the adipose tissue, Profilho makes the adipocytes more viable and improves the quality of the subcutaneous tissues.
Sources : 1 : Rapport d'étude 10E2047 TEOSYAL® PureSense Redensity [I], Teoxane 20101bis :Analyse complémentaire à l'étude 10E2047 TEOSYAL® PureSense Redensity [I], Teoxane 2010. 1 ter :Rapport d'étude 13E2855, Teoxane 2014
2 : Changes in skin physiology and clinical appearance after microdroplet placement of hyaluronic acid in aging hands. Stefanie Williams, MD,1,2 Slobodanka Tamburic, PhD,1 Henriette Stensvik, BSc (Hons),1 & Mateja Weber, BSc (Hons)11Cosmetic Science Group, School of Management and Science, University of the Arts London, London, UK and European Dermatology London, UK 2009. 2bis : Stabilized hyaluronic acid based gel of non animal origin for rejuvenation of the face, hands and decolletage using an injector device, Martina Kersher, Meike Streker, Tilman Reuther, Nils Krüger Hambourg.
3 :Quan et al,J.Invest Dermatol 2013
4 :STELLAVATO A ;et al 2017, IMCAS Congress Abstract Hyaluronan hybrid compless and linear or crossminked HA based commercial products differently affect human Adiposestem cell differentiation and proliferation effects on bioremodeming.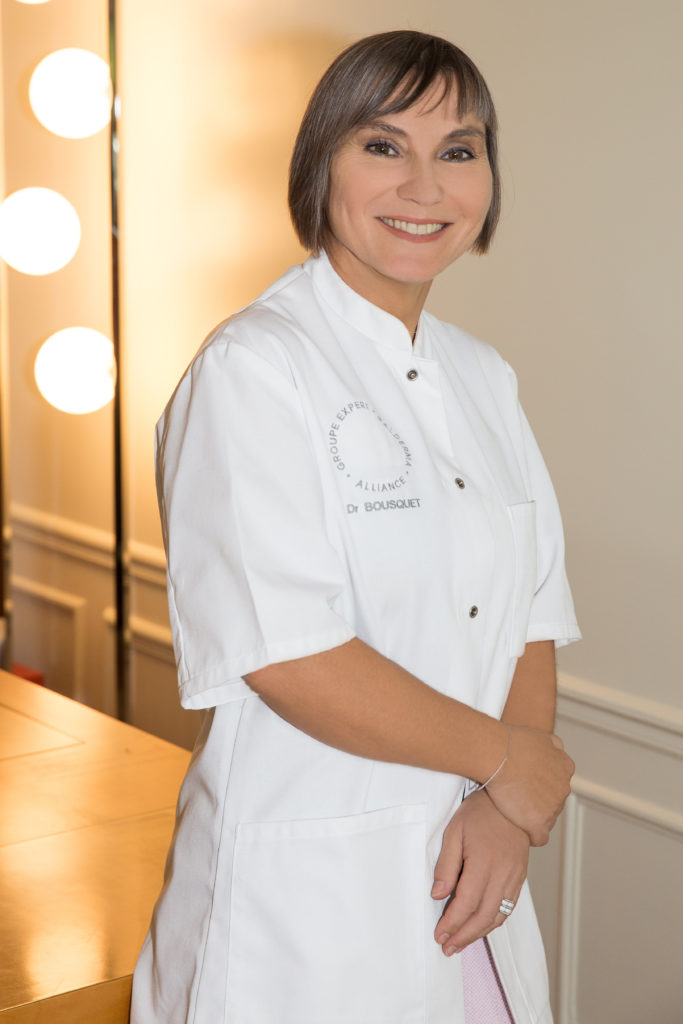 Dr Marie-Thérèse Bousquet : Specialist in aesthetic medicine with 27 years' experience. My aim is to listen to my patients while maintaining respect for my procedures. My role as a consultant for laboratoriesis an opportunity to grasp the nuances of any new products and optimise their results. Member of various learned societies (SFME, AFME); expert consultant at scientific congresses. I have honed my technical skills over the years, with the aim of optimising and harmonising my results:
– Evening the skin tone with peels, pulsed light
– Improving the skin quality with injections, radiofrequency stimulation or light therapy
– Slowing down skin sagging with ultrasounds or by inserting tensor threads 
 More : drmtbousquet.com