"Madam, if you want to avoid developing any new wrinkles and put off having injections, you'd better limit your facial expressions." Such was my dermatologist's diagnosis.
As you approach age 50, you need to preserve your face by avoiding any kind of surprise, laugh-ter or emotion.
You might as well join a convent!
Now, when your daughter announces that she's a lesbian and wants to get her genitals pierced, all you can do is subtly raise your right eyebrow. But don't even think about leaving it up there!At this transitional time of our lives, when we are going through huge emotional upheaval, we are no longer allowed to go into raptures about anything good that might occur.
Now I know why my peers only eat lettuce: a plate of profiteroles is sure to evoke a wrinkle-inducing "Wow!!" so it's better not to give in to temptation.
Now, when your husband comes home after a business trip, you have the right to leap into his arms à la Dirty Dancing, but don't even think about smiling!
And if he comes home with a bunch of flowers, even if it's a surprise, just keep your mouth closed and refrain from widening your eyes. You should have stopped being surprised by the business trip/flowers combo years ago.
When you're approaching 50, the idea is to look miserable so that your features stay relaxed. It obviously works: plenty of women our age have it down to a T!
Nowadays, we are no longer shocked if a bit of wee escapes when we sneeze, or we fart whenever we cough. We just keep calm and carry on, as though nothing had happened.
Nevertheless, it is still quite tricky not to grimace as you pull on your support stockings or slip on some high heels. I challenge anyone to keep their face relaxed when they're teetering along the street at 2am, especially if they're also shouting at their husband to bring the car closer!Don't smoke, don't drink through a straw, don't do "duck face" selfies, don't squint, even if you can't see properly…the list is endless.
What about sex? You are welcome to enjoy the odd orgasm, but instead of your usual "AAAAAHHH" you should restrict yourself to a quiet "mmmmm". Keeping your mouth closed when you're climaxing might be the ultimate paradox, but it's all in the name of beauty.How can you watch your son get married without aggravating your crow's feet?
Especially when his chosen bride leaves a lot to be desired in the daughter-in-law stakes… This is one time you'd be fighting a losing battle – you're preconditioned to start blubbing so just go with it! But, while we're at it, why don't you swap your blusher brush for a suction cup?
That way, every time you deign to burst out laughing, you'll no longer need to excuse yourself to "powder your nose" but rather to "suction your face"!So, acid or botox? Decisions, decisions… If it means I can keep going into ecstasies over a plate of profiteroles, I'm happy to give either of them a try…
Well, what did you expect? Glamorously yours.
Estelle Amsellem, Mademoiselle pop
Estelle's recipe for fighting aging: an inspirational and dizzying observation of life from the fortieth floor.Wife, mother-of-three, daughter, daughter-in-law, sister, freelancer…all of her roles have their story to tell: yours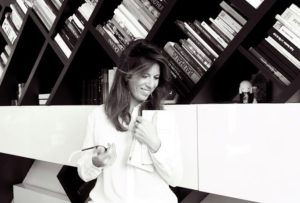 After fifteen years working in marketing, Mademoiselle Pop was born ten years ago. Her role: to titillate busy working girls who wanted to nurture their femininity. She bravely made her way into the French capital's most prestigious companies (Guerlain, Cartier, Louis Vuitton, Christian Louboutin, Chaumet, etc.). Estelle's viewpoint is lucid, touching and hilarious. She'll make you laugh, cry and live life to the full.