ANTI-AGE magazine, the internationally renowned beauty and anti-aging  magazine, is set to launch in Greece and Cyprus in spring 2016. Following its successful  worldwide  release with more than 400.000 copies worldwide  and strong  bilingual presence in Europe, Asia and Russia, the magazine will be published  as a bilingual version (in both Greek and English) for distribution in Greece and Cyprus.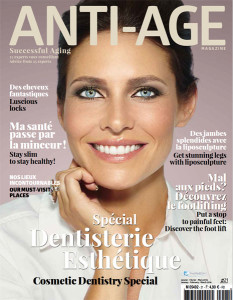 Uniquely positioned in the anti-aging  and cosmetics  market, ANTI-AGE magazine  presents a luxury environment through sophisticated and glossy design, and will feature innovative anti-aging  and aesthetic medicine techniques as well as showcase the latest  beauty and anti-aging  products.

Thanks to our longstanding relationships with more than 100 highly experienced doctors,  dermatologists and plastic surgeons specialized in anti-aging, and dentists dedicated to cosmetic dentistry, ANTI-AGE magazine  is able to present exclusive and detailed  presentations of innovative cosmetic procedures for face, skin, body, hair and teeth.
In addition, ANTI-AGE magazine will feature the latest  in cosmetic, beauty and anti-aging  products presented by pioneering  companies from the cosmetics  and pharmaceutical industries.
Many of the ANTI-AGE magazine features are accessible online through www.anti-age-magazine.com and from the dedicated global facebook  page with a total of more than 100.000 monthly visits. The Greek content and latest  updates on the Greek market, available from spring 2016, will be trackable through the dedicated www.anti-age-magazine.gr page.
Each issue will feature a newly updated column presenting salons, medical offices, clinics, spas, hotels and beauty salons that offer anti-aging treatments and rejuvenation and relaxation packages.
With a view to expanding  on this niche lifestyle market, ANTI-AGE magazine  is dedicated to modern men and women, between the ages of 35-65, who are interested in anti-aging products and therapies to improve and accent their most beautiful, healthy  and glowing selves.
Distribution:
30.000 copies annually
Readership 100.000+
Distribution points:
• Beauty Clinics
• Medical Practises
• Medispas
• Spas
• Luxury Hotels
• Newsstands
• Anti-age / Beauty
Conferences & Fairs
• Subscribers