More than a face mask, it's a second skin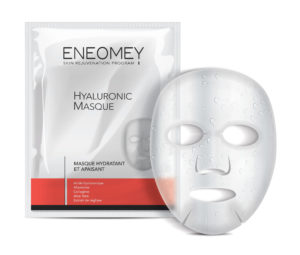 When subjected to various aggressions, the skin becomes tight and uncomfortable. To soothe and hydrate it, ENEOMEY laboratories' second-skin Hyaluronic Masque is now available in pharmacies. Made of very thin, natural biocellulose, this mask is already used by a number of doctors for post-procedure care.
It is lightweight, thin, transparent, soft and is able to absorb a large quantity of water, giving it outstanding hydrating properties. The active ingredients penetrate right into the heart of the epidermis: in just 15 minutes, the skin feels more comfortable, hydrated, soothed and plumped.
What is more, the Hyaluronic Masque's texture immediately refreshes and relaxes the face. Available in pharmacies and drugstores. RRP: €9.90 info : eneomey.com – info@eneomey.com