By Doctor Miguel Sanchez-Viera
Kleresca® Skin Rejuvenation reduces the signs of aging with fluorescent light energy (FLE).
A unique treatment
Doctors currently use many different treatments to counteract the signs of skin aging. In recent years, patients have shown an increased interest in non-invasive techniques that allow for the best skin quality possible, with minimal downtime, while maintaining their natural look. We are aware of the reduction of skin quality over the years. Moreover, our daily life (stress, unbalanced diet, smoking, sunlight, etc.) can also affect the quality of the skin and induce premature aging.
With these factors in mind, it is important to advise our patients of the appropriate skin care for their skin type, as well as recommending treatments that will help their skin to look its best.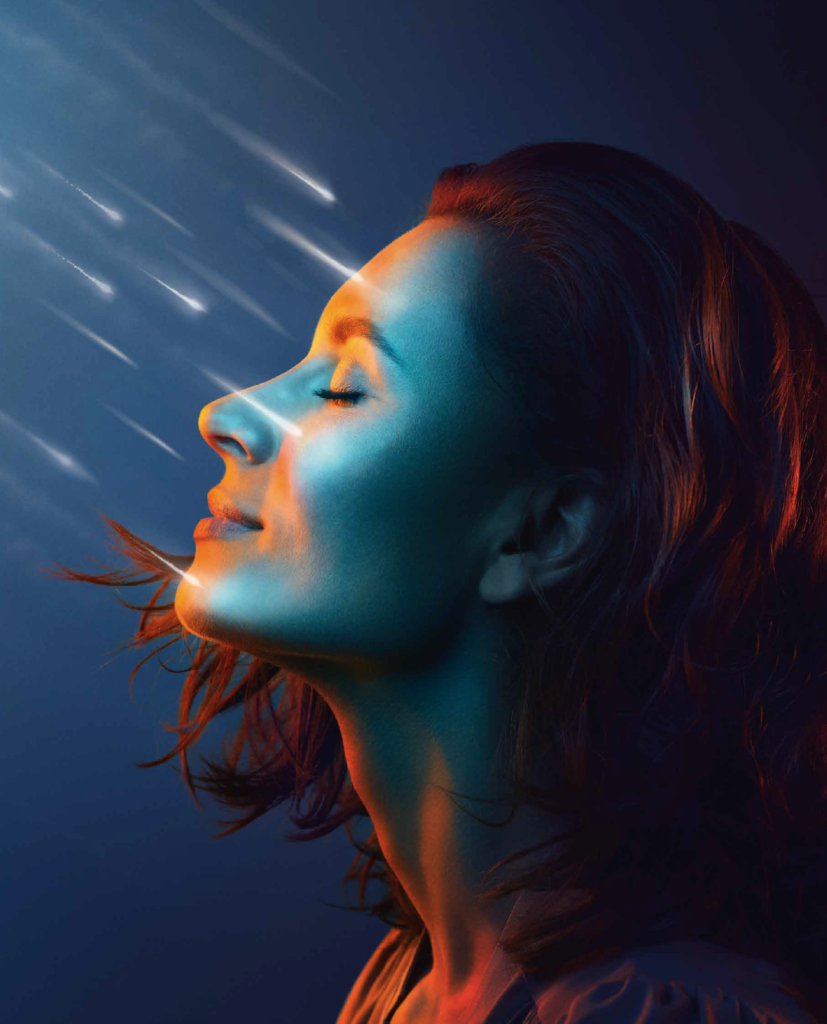 A novel, non-ablative phototherapy by the name of Kleresca® Skin Rejuvenation is now available, designed specifically to meet these requirements. The therapy uses fluorescent light energy (FLE) to reduce the signs of aging and provide patients with a glow often associated with young and healthy skin.
The treatment combines blue LED light with a chromophore gel that is applied to the skin. When exposed to the light, the gel generates FLE that penetrates the different layers of the skin, stimulating collagen production, with high safety and efficacy.
Even though this technology is quite new, there are already various scientific studies proving its beneficial effects in relation to different skin conditions. In a scientific study, the use of FLE has shown up to a 400 %* increase in collagen production. This is translated in our patients with a reduction of fine lines and pore size, a reduction of scars and an overall improvement of skin texture and natural glow.
No photosensitivity
The recommended protocol is a total of 4 sessions, once per week. However, in our experience, it can be performed in different regimes, adapting to patient needs and severity of their skin condition. The treatment does not create photo-sensitivity, making it suitable for year-round use. This is an advantage for our clinic, since we are in a region with a lengthy summertime. Currently, we are not only treating the face, but also the hands, neck and décolletage area, with very positive results. An increasing number of experts are also using it in combination with other techniques, since it is a non-invasive procedure. As we gain experience, I´m sure Kleresca® will become part of our combined anti-aging protocols.
Clinically proven results
FLE has proven very effective for the treatment of acne, even in moderate to severe cases, showing a remarkable reduction of papules and pustules as well as a reduction of acne scarring. Lately, this technology has also proven its benefits in the reduction of rosacea signs and symptoms, like inflammation and redness. This biophotonic treatment has high potential for possible combination with invasive treatments because of its proven ability to reduce inflammation which helps normalise the skin and stimulate the build-up of collagen, ensuring skin rejuvenation.
* With LED light as a control, the treatment delivers approximately a 400% increase in collagen production. These results were documented in-vitro and support findings from in vivo studies based on biopsies.
---
Doctor Miguel Sanchez-Viera
Medical degree and residence in dermatology in Madrid. Trained in Cosmetics, Laser and Mohs Micrographic Surgery in Houston and New York. Director of Instituto De Dermatologia Integral, Madrid. Assoc. Prof. Dermatology at Universidad Complutense of Madrid. Author and researcher in dermatologic surgery, skin cancer, cosmetics and lasers. Member of Board of Directors of many National and International Organisations (ISDS, Skin Cancer Foundation, ESCAD, AEDV, …).